Balance Out Your Miles With the Best Neutral Running Shoes
Running is one of those activities that holds no judgement. Whether you just want to get out for an evening stroll or put down your fastest mile, there's a lane for every athlete. And with the sheer number of runners on the planet, there are as many running shoes that cater to everyone's unique step and stride.
One such category of running shoes that can benefit a certain type of runner is the neutral shoe lineup. Designed for a particular strike, these runners can help you maintain a proper pace without discomfort or a drop in performance. But what makes up a neutral running shoe? Which silhouette leads the pack? We've laced up a number of balanced profiles to determine the best neutral running shoes on the market today. Before jumping into our roundup, however, let's look at how these kicks differ from other treads you'll find on the road, track or trail.
What is Neutral Running?
Every footprint is unique, and how your feet make contact with the ground can impact your comfort level, especially when running. The main point of concern when deciding between a neutral running shoe or a silhouette offering more stability is your gait, which can be described as pronated, neutral or supinated.
Runners who pronate tend to have a stride that falls inward when stepping. While every athlete typically has some pronation in their normal step, excessive pronation can lead to less comfortable situations in the arch of your foot, as well as your heel, ankle, knee and more.
Supination, on the other hand, is the term used when runners experience an outward roll in their step. Excessive supination can lead to ankle issues if not corrected with a stability shoe or other treatment. Supination is sometimes referred to as underpronation, for added clarity.
Neutral runners exhibit a more natural stride that doesn't excessively roll inward or outward. These runners can benefit from neutral running shoes, as there aren't any added stabilizing features to correct missteps. The ride is well-cushioned in key areas to promote this natural gait.
How to Tell if You Need Neutral Running Shoes
Outside of having a professional gait analysis, one of the easiest ways to determine if neutral running shoes are right for you is by looking at the tread wear on your current kicks. If you see a lot of tread missing on the inside of your shoe, then that can be a good indicator that you're overpronating. If your shoes are more worn on the outer edge, this indicates supination. Finally, a uniform wear across the sole means your stride is more neutral.
While neutral shoes aren't the most ideal for those with pronation or supination issues, there are plenty of efficient, stylish stability runners out there that can cater to your specific step. Think of it less as missing out on neutral running shoes and more of having a personalized print for your performance.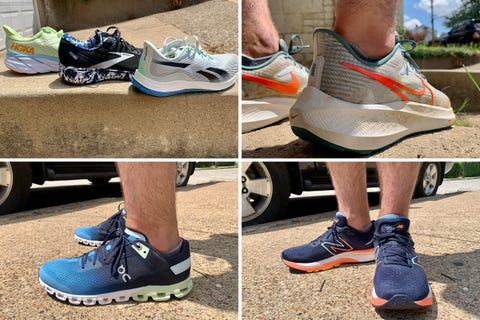 Over the course of a few weeks, we took to the streets and sidewalks in a handful of the following neutral running shoes, giving each silhouette its moment in the sun. We took note of the underfoot feel of each sneaker, as well as key features and comfort levels. While our normal stride tends to be more supinated, we typically lean more toward the neutral category, which granted us plenty of experience for identifying positive notes. Now, let's lace up and get going with these neutral runners for your natural stride.
BEST OVERALL NEUTRAL RUNNING SHOE
Brooks Ghost 14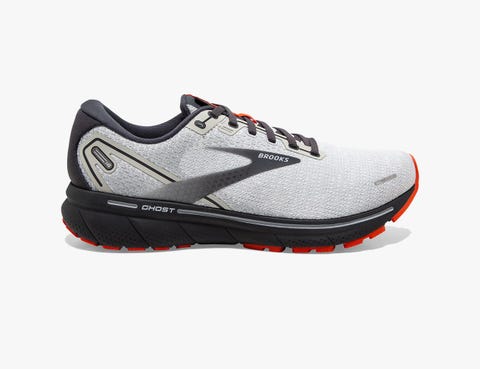 Forgiving DNA Loft midsole provides a comfortable ride without excessive much
Not ideal for tempo training
If there's one pair of running shoes we think every neutral runner should have in their arsenal, it's the updated Ghost 14 from Brooks. We've run in previous Ghost iterations before, so we expected a trustworthy ride that felt comfortably plush without too much fluff. However, the revamped DNA Loft midsole really surprised us, delivering exceptional cushioning through our normal routes and miles.
The 3D Fit Print upper kept us secure and dry, too, which was a nice touch when pounding the pavement on hotter afternoons. While we wouldn't recommend this as your only running shoe, the Ghost 14 is a definite must-have in any proper running shoe rotation.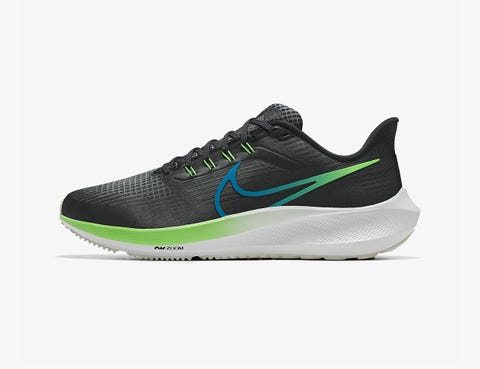 Flywire support provides plenty of lockdown security
Not as much pop from the Zoom Air unit when compared to previous Pegasus silhouettes
Another stalwart in the daily training subcategory, the all-new Nike Air Zoom Pegasus 39 boasts a more lightweight upper with strategic engineered mesh in key spots for improved breathability. We really appreciated the lockdown fit thanks to the Flywire technology infused in the midfoot band, as well as the extra padding in the tongue for a comfier feel.
The Peg 39 adds one more Zoom Air unit to the build than the previous iteration, with one in the heel and one in the forefoot for a heightened sense of energy. While we didn't notice as much return with this updated system, we still think this daily trainer is zippy enough for any running routine.
BEST BUDGET NEUTRAL RUNNING SHOE
Reebok Floatride Energy 3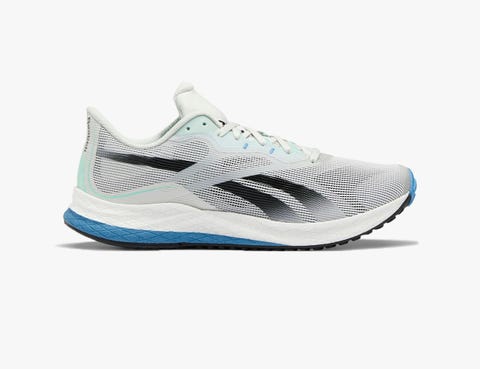 Lightweight, responsive profile that's great for tempo days
Not as breathable as others on this list
If there's one shoe that surprised us the most during testing, it's the Floatride Energy 3 from Reebok. We've trained in a handful of Reebok kicks, but never considered them for running disciplines — outside of the occasional sprint or agility session. The Floatride Energy Foam gave us plenty of responsive pop in a lightweight profile, making these our go-to's for any uptempo training.
The carbon rubber outsole was also a welcome touch, as its abrasion resistance and boosted traction were great on paved trails and graveled side streets. While some added mesh in the upper would help keep these hot kicks a little cooler — be ready to sweat — these affordable neutral running shoes are more than capable of taking on your next route.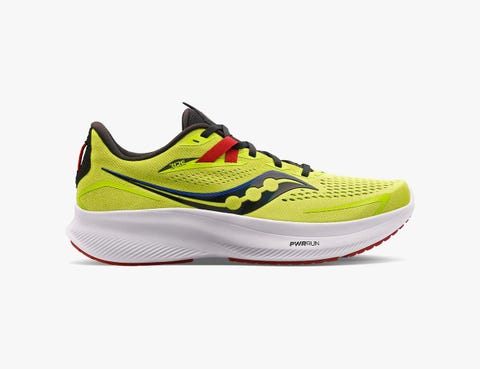 Simple, no-frills design that's a great introductory silhouette
More exposed foam could lead to durability issues down the road
The latest iteration of the Ride stable from Saucony maintains a simple silhouette but could definitely be considered a sleeper. The mesh upper hugs your foot for a secure yet comfortable feel, while the PWRRUN midsole gives the Ride 15 a more balanced base for added stability.
The footbed insert also features PWRRUN+ foam for a soft yet responsive boost of energy. If you're looking for a good daily trainer to get your love affair with running started, Saucony's Ride 15 provides all the neutral support you need without any unnecessary bells and whistles.
BEST NEUTRAL RUNING SHOE FOR HEEL STRIKERS
Hoka Clifton 8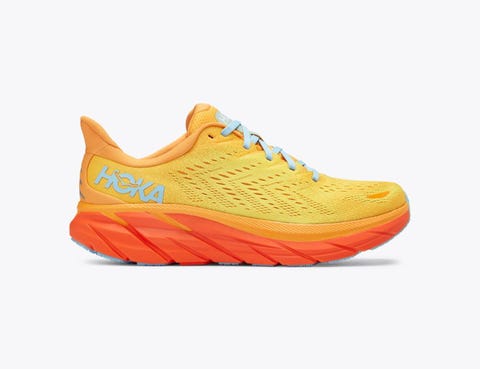 Plenty of cushioning for a comfortable stride
Not as versatile as others on this list
A fan favorite among Hoka loyalists, the Clifton 8 features plenty of comfortable support that's become synonymous with the brand. Soft and light, these neutral runners have even earned themselves a Seal of Acceptance from the American Podiatric Medical Association. When testing, we often admired the performance of the extended heel crash pad and early stage meta-rocker, which allowed for comfortable heel strikes and seamless transitions.
We'd recommend the Clifton 8s for daily training or recovery sessions, but these impressive kicks are not the best choice for more specialized disciplines. Keep these in mind when training for race day, and when it comes time to toe the starting line, opt for more PR-capable sneakers.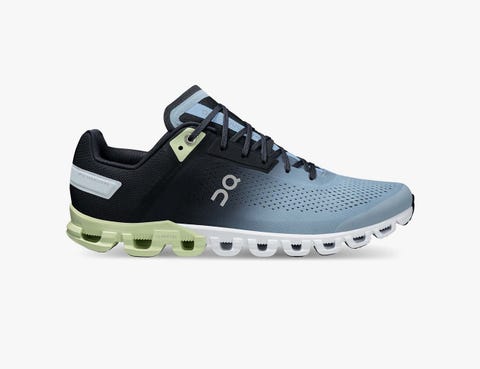 Speedboard unit loads effortlessly for fast-paced, responsive strides
Laces have a tendency to loosen mid-run, especially at longer distances
Running can be enjoyable at any pace, but there's something exhilarating about going fast. If you have a particular need for speed, the Cloudflow from On Running should definitely be on your radar. The CloudTec design and Helion superfoam keep this explosive neutral runner at a featherweight profile, while the Speedboard unit gives plenty of energy return for ramping up the pace.
We loved the springy, responsive feel of every step in the Cloudflow, while the locked-in heel and roomy toe box gave us that secure fit with room to splay for those explosive toe-offs. Just be ready to put on the brakes from time to time, as the laces were prone to coming undone when we pushed these runners to their limit.
MOST STYLISH NEUTRAL RUNNING SHOES
Adidas Ultraboost 22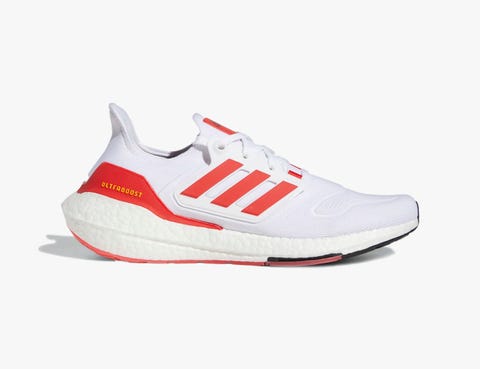 Revised strobel lasting allows for better sole expansion and comfort
10mm drop can make for a clunkier running experience
If you enjoy running with some added zest of style, why not run in a pair of kicks that's both functional and fashionable? The Ultraboost 22s leave no detail unaccounted for, providing a stylish silhouette in a wide variety of colorways. As far as function goes, we typically chose these neutral runners for less intense training, finding comfort in the squishy response of the BOOST capsules and revamped strobel lasting.
We do recommend, however, to be wary of more intense training circuits in these eye-catching neutral runners. While great for shorter runs or slower paces, the 10mm drop was a little cumbersome, especially on longer treks.
New Balance Fresh Foam X 880v12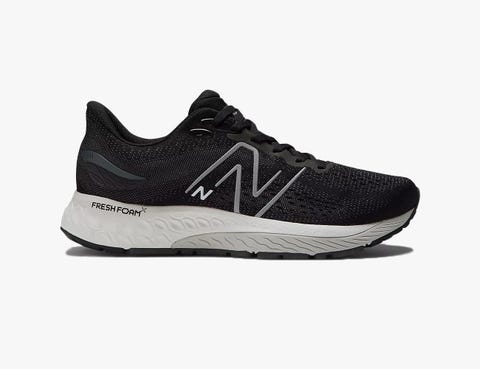 Exceptional grip thanks to a blown rubber outsole
Roomier toe box, requiring us to cinch down for optimal security
Many neutral running shoes can fall under the "daily trainer" moniker, but in our opinion, the Fresh Foam X 880v12s hold the crown when it comes to everyday running shoes. The Fresh Foam midsole delivered more than enough soft comfort, making every mile float by with ease. Additionally, the blown rubber outsole provided a durable, grippy base that kept us motivated and on course, even on looser trails.
The Jacquard mesh upper was breathable and provided ample support in the midfoot, the toe box did feel roomier than other neutral runners. While this could be less of an issue for wider-footed athletes, our narrower digits had a little too much room to play with. Still, these trainers from New Balance are a top pick for anyone looking for downright impressive dailies.
BEST NEUTRAL RUNNING SHOE FOR RACE DAY
Asics Metaspeed Sky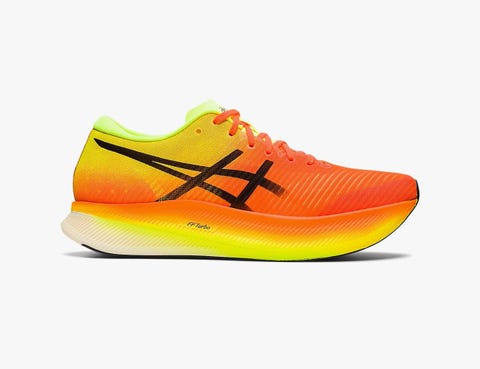 Carbon plate for an energetic, responsive ride
Most expensive neutral running shoes on this list
Neutral running shoes aren't just for training disciplines. Even the most natural of strides can win a marathon or two. To help those steps and PR-besting times, the Asics Metaspeed Sky is there. Featuring a carbon-plated profile for peak energy return, these vibrant racers also boast a high toe-spring rocker for quick, efficient transitions.
Built more as a stride shoe for those that take longer strides when ramping up their pace, the Metaspeed Sky is just 7 ounces with a 5mm heel-to-toe drop. Bright and blazing, if you have an upcoming race day on your calendar, consider lacing up these impressive kicks from Asics. They'll look exceptional in the winner's circle.