Dover and Eurotunnel queues: Travellers warned of third day of delays
Travellers faced queues of up to seven hours to cross the Channel on Saturday as thousands of families headed to France for the summer holidays.
Tailbacks among tourist traffic has eased, but the major incident declared in Kent on Friday remains in force.
French and UK officials have clashed over the reason for the delays.
The UK government said French authorities had failed to find enough border staff to check passports, demanding they resolve the "terrible situation".
But French Transport Minister Clement Beaune hit back,Steve Madden Shoes saying France was not responsible for the additional border checks brought on by Brexit.
Families travelling to the Eurotunnel terminal on Saturday told the BBC they faced several hours of delays amid heavy congestion around Folkestone.
The Kent Resilience Forum, which coordinates the county's emergency planning, predicts Sunday will be another challenging day, with delays and disruption for both holidaymakers and hauliers.
The Port of Dover is expected to be busy with 6,500 cars due to make the crossing, although that figure is down from 10,000 cars on Saturday.
Port officials and Eurotunnel have been working through the night to begin clearing the backlog of 1,500 lorries parked on the M20.
Natalie Chapman, from haulier group Logistics UK, said some lorry drivers had waited to cross the Channel for "well over 18 hours" in queues with no toilet facilities.
John Keefe, director of public affairs for Eurotunnel, said Saturday's traffic disruption had been caused by an accident on the M20 on Friday.
A major incident was declared on Friday amid gridlocked routes around the Kent terminals and four-mile queues on the eastbound M2.
Kent County Council and the Road Haulage Association are urging the government to build more lorry parks to get heavy goods vehicles off the roads when there is cross-Channel disruption.
The Department for Transport said it was investing more than £30m to improve lorry-parking facilities in England.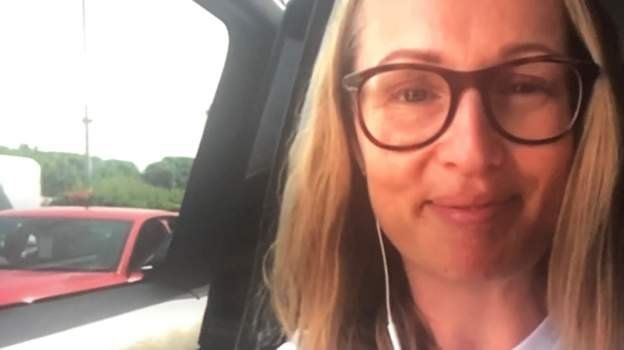 Holidaymaker Anna Parkinson took seven hours to travel two miles to the Eurotunnel terminal – with three "fractious" children sat in the back.
She said she felt for local residents who "currently Hokas Shoes can't leave their local villages because they're hemmed in by all of us desperately trying to get on the train that we should have caught five hours ago".
Jane Dennis, her husband and their five children, aged between three and 11, barely moved for six hours while trying to reach the Eurotunnel terminal.
Between around 07:00 and 13:00 they advanced roughly 70 metres before deciding to take a detour that friends had used.
She said the queues weren't being managed by anyone, but traffic was flowing more freely on the detour.
They eventually arrived in France 12 hours after setting off from home in Hampshire.