General Sergei Surovikin: Who is Putin's hard-line new commander in Ukraine?
General Sergei Surovikin, nicknamed General Armageddon, is President Vladimir Putin's new tactic in the war against Ukraine.
His appointment was announced hours after the attack on the Crimea bridge. And the new leader's first day at work saw Ukraine hit by a huge wave of Russian missiles – one of the widest series of strikes witnessed for months.
But Gen Surovikin is not actually new to the faltering war effort. He's been commanding troops on the front in southern Ukraine and, the day before the war began, was sanctioned by Europe for his military influence and relationship with President Putin.
This appears to be the first time Russia has officially named a commander for its entire military operation in Ukraine – before that, there were media reports that the post was held by General Alexander Dvornikov.
But who is the new commander?
Born in 1966 in Novosibirsk, the 55-year-old Gen Surovikin is a veteran of Russia's recent wars.
Gen Surovikin started his active military career in Afghanistan in the late 1980s. This was in circumstances that were "extremely unfavourable", says Russian history and culture professor Peter Waldron – the Soviets were losing.
Prof Waldron suggests this shaped the general's character and reputation, as he was heavily involved in "considerable violence" from the off.
Back home in 1991, three people were killed during a clash between military vehicles and pro-democracy protesters in Moscow. According to the BBC's Russian service, the protesters blocked the vehicles' path and Gen Surovikin, who was in charge, gave the order to drive on.
All charges were later dropped on the grounds he had been following orders.
Four years later, while a student at the Frunze Military Academy, the general was given a suspended sentence for illegally selling a pistol to a classmate. He claimed he was "set up" and the conviction was later stripped from his record.
The general went on to serve in the 1990s conflicts in Tajikistan and Chechnya and, more recently, in Syria, where Moscow intervened in 2015 on the side of the Syrian President Bashar al-Assad's government.
As commander of Russia's aerospace unit – despite having no experience of air operations – he oversaw the obliteration from the air of much of the Syrian city of Aleppo.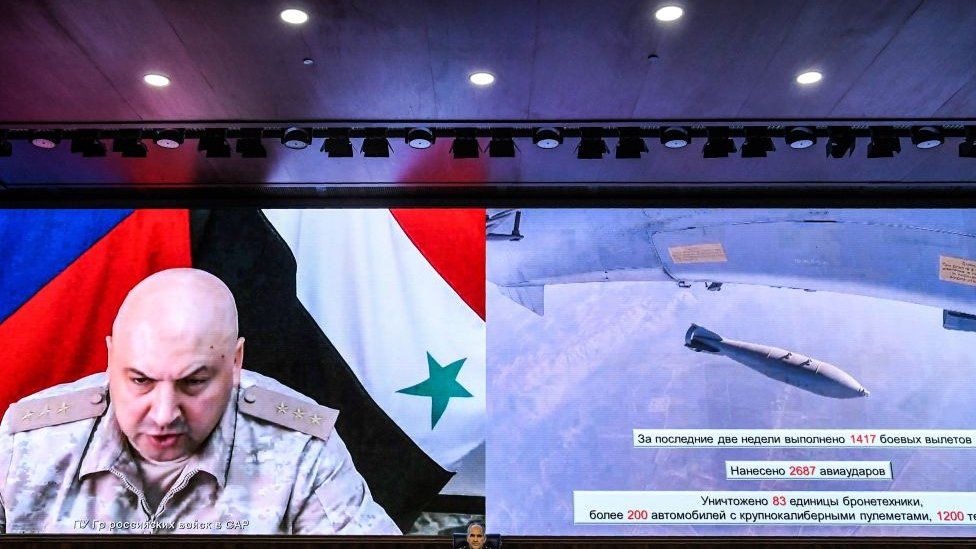 Prof Waldron says Russia's intervention in Syria amounted to unconstrained bombing and attacks on civilian targets. Gen Surovikin was in charge of that and was "clearly prepared to use whatever measures are necessary".
Meanwhile, Charles Lister, director of the Syria Program at the Middle East Institute, says Gen Surovikin has an "absolutely unforgiving attitude to the enemy" – seeing combatants and civilians as the same.
Under the general's command, Russian forces were involved in covering for the use of nerve agent sarin, Mr Lister says. They witnessed it being loaded onto Syrian aircraft minutes before a deadly chemical attack on the town of Khan Sheikhoun, in which more than 80 people died.
In 2017 President Putin awarded Gen Surovikin the Hero of Russia medal – the country's highest honour – for his service in Syria, whereas Human Rights Watch (HRW) listed him as someone who could be held responsible for human rights violations.
On several occasions, soldiers under Gen Surovikin's command have been accused of violence against civilians. In Chechyna, eyewitnesses say fighters conducted "cleansing operations" where civilian homes were broken into and locals were beaten, according to the BBC's Russian service.
Gen Surovikin rejected the accusations.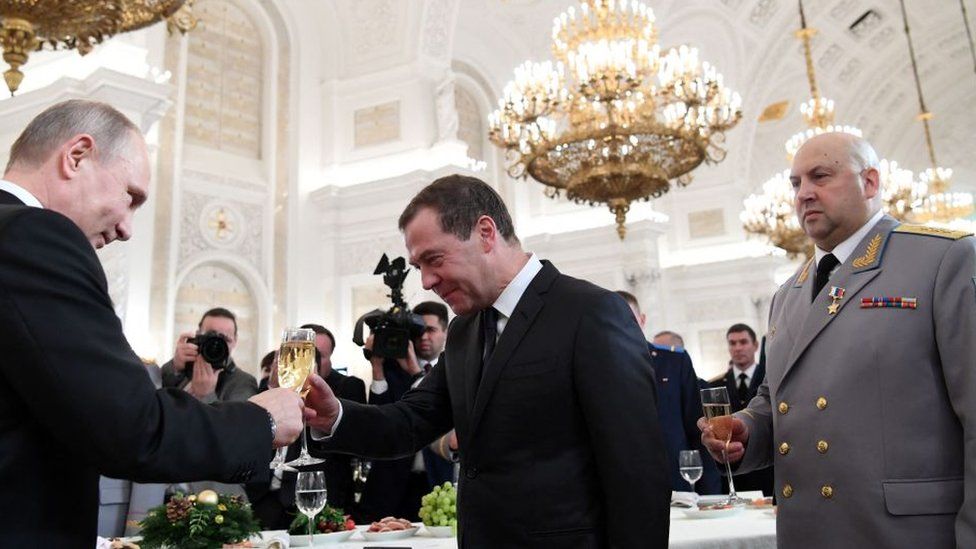 Over 30 years or so this reputation of being "a brutal, very tough and unpleasant individual" has developed, says Prof Waldron.
This has been seen both on and off of the battlefield.
In 2004, just two years after graduating from a military academy for officers, Gen Surovikin allegedly beat up one of his soldiers because of his political views, says the Institute for the Study of War. The soldier later withdrew this complaint.
Pro-government Russian newspaper Kommersant reported that in the same year, Gen Surovikin summoned one of his colonels for a dressing down. Moments after the encounter, the soldier fatally shot himself.
So why did Putin make this appointment? Prof Waldron says it's clearly a recognition that things are not going well.
"You don't change your military commander unless things aren't going to plan," he added. "Changing the commander here may bring in a different ethos but whether it makes a difference to the capabilities is questionable."
His reputation of brutality may not necessarily equal territorial gains but his appointment has been welcomed by some.
Chechen leader Ramzan Kadyrov and the founder of mercenary Wagner group Yevgeny Prigozhin – key allies of President Putin – praised him. Mr Prigozhin, a businessman nicknamed Putin's chef, said the general is "the most competent commander" in the Russian military.
Prof Waldron says perhaps this is Putin making a "symbolic appointment".
"Here is somebody who has got the public reputation of being brutal," he says. "Is Putin trying to send a signal to Ukraine about how he wants the war to be proceeded from here onwards?"