Russia sanctions: How can the world cope without its oil and gas?
A key Russian gas pipeline to Europe has been closed indefinitely because of leaks, meaning gas supplies to the continent will remain tight heading into winter.
Nord Stream 1, an underwater pipeline running across the Baltic Sea to Germany, had been supplying EU states with 35% of all the gas they imported from Russia.
EU leaders suspect the leaks were created deliberately, but have stopped short of blaming Russia for them.
Operators noticed leaks in Nord Stream 1 in a stretch of pipe near the Island of Bornholm in the Baltic Sea. There were also leaks in a parallel pipeline called Nord Stream 2, which is not yet in use.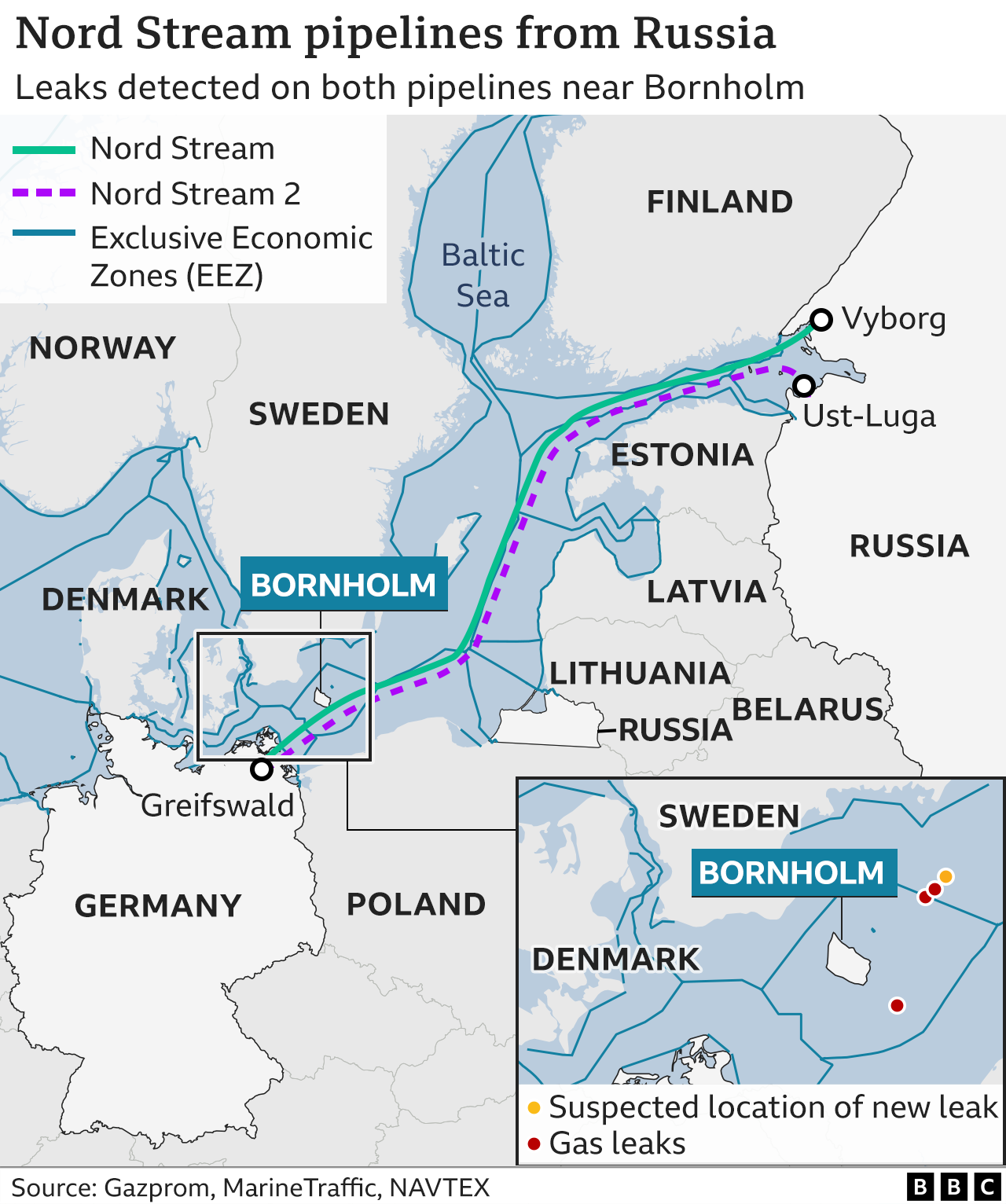 Seismologists in Denmark said there had been explosions under the sea in the same area as the leaks occurred.
President of the European Commission Ursula von der Leyen says the pipelines were probably sabotaged, but did not say who might be to blame.
Russia has denied responsibility.
How much could Nord Stream 1's closure affect Europe?
Last year, Russia was supplying EU countries with 40% of their natural gas.
Germany, Europe's largest economy, was the largest importer in 2021, followed by Italy.
However, Russia has been steadily reducing supplies.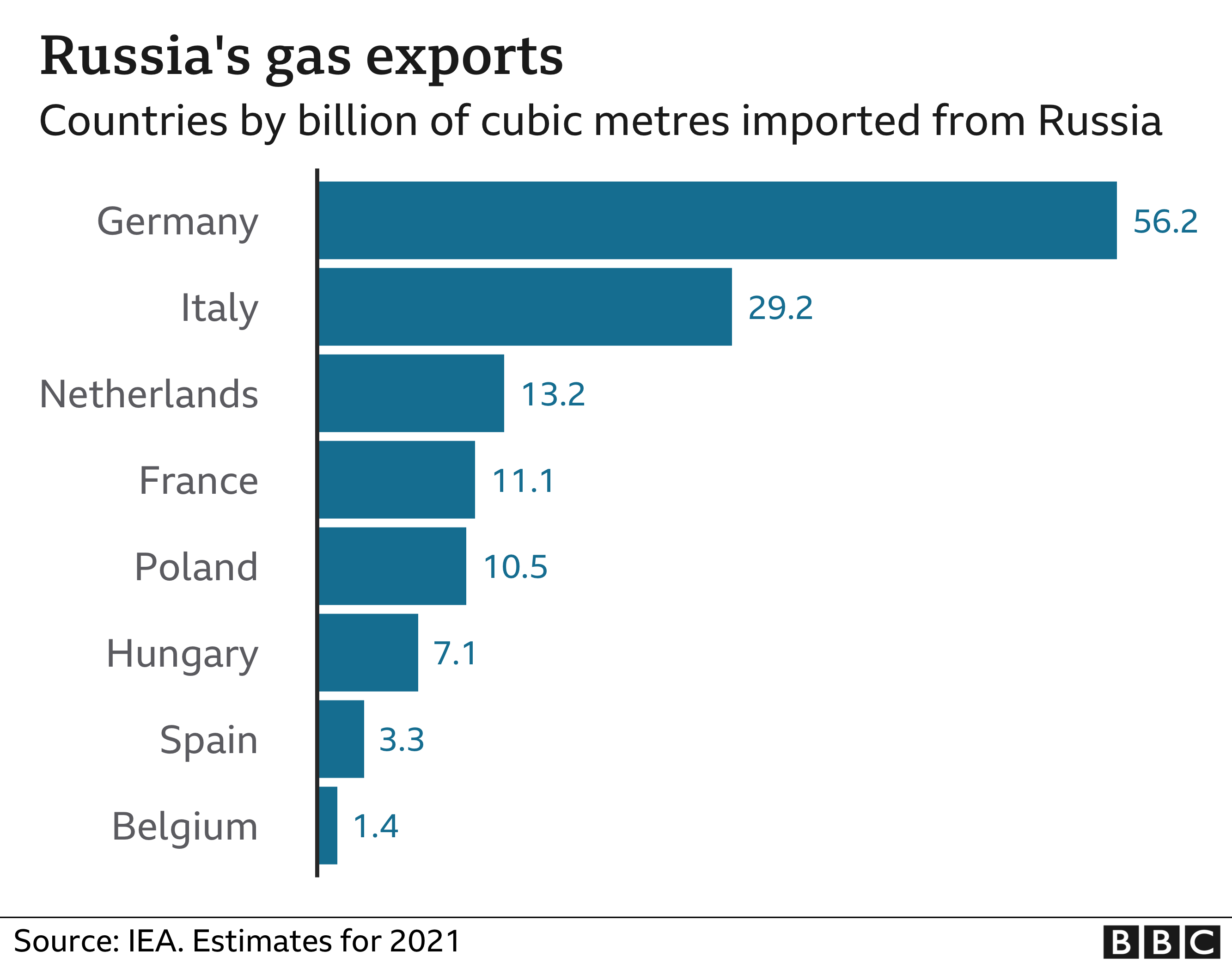 Over the summer, it drastically cut the amount of gas it supplied through Nord Stream 1, from 170m cubic metres a day to 20m cubic metres.
It frequently shut the pipeline, citing maintenance work or equipment problems.
Overall, Russia has cut it supplies of gas to Europe by 88% over the past year, according to David Fyfe, chief economist with research firm Argus Media.
This has caused the wholesale price of gas to increase by 210% over the same period.
In 2021, the UK imported 4% of its needs from Russia. Nowadays, it imports none.
However, gas prices have also soared in Britain because when Russia restricts supplies to mainland Europe, that also creates acute shortages on the international gas market.
How can Europe respond to the gas shortage?
Gazprom, the Russian state-backed firm which operates Nord Stream 1, says it is "impossible" to say when it could come back online.
"Russia has created gas shortages as a way of weakening Europe's determination to maintain sanctions against it," says Mr Fyfe.
"This puts further leverage on the Europeans."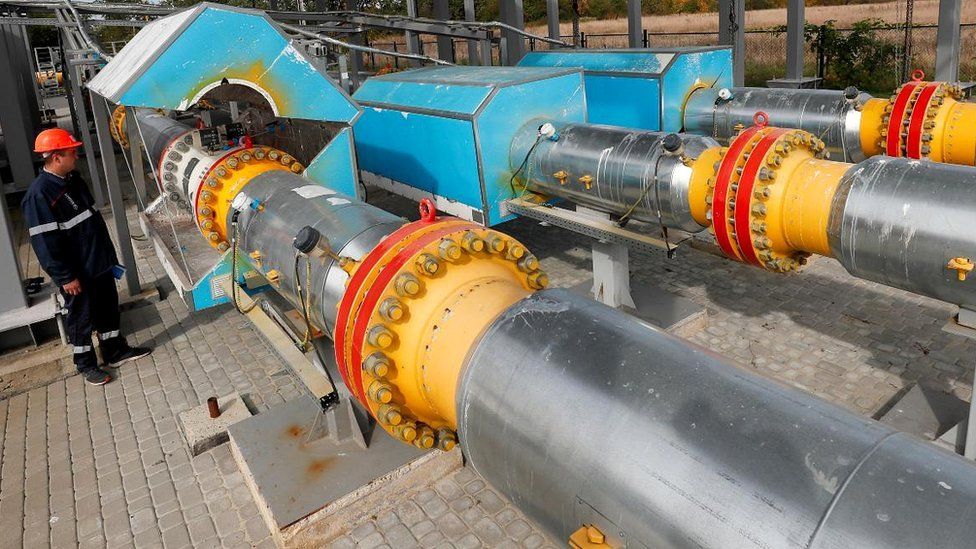 However, the European Union has said it will cut gas imports from Russia by two-thirds over the coming year.
To help it reach that goal, member states have agreed to cut gas usage by 15% over the next seven months.
EU states are also looking to ship in liquefied natural gas (LNG) in tankers from producers such as the US and Qatar.
However, says energy advisor Kate Dourian: "there aren't enough LNG terminals in Europe. This will be a problem for Germany, particularly."
What sanctions are being imposed on Russian oil and gas?
Russia exports about 5m barrels a day of crude oil and about 3m barrels a day of refined oil products. These account for 40% of its total export revenues.
EU nations will stop buying Russian crude oil imported by sea from 5 December, and end purchases of Russian refined oil products by sea from 5 February next year.
Some landlocked European countries such as Hungary and Slovakia will get an opt-out because they have no other way of importing oil except via pipeline from Russia.
The UK and US have already banned imports of Russian oil.
The EU also wants to put a cap on the price which other nations will pay for Russian oil, to stop Russia from making big profits.
The precise level of the cap will be decided later, but will affect big importers of Russian oil such as India.
The plan is being backed by G7 nations such as the US and the UK.
The EU and G7 say those which don't obey the cap will not be able to use firms in financial centres like London to insure oil shipments.
President Putin has threatened to cut all energy supplies if it takes such a step, but G7 leaders believe that's a bluff.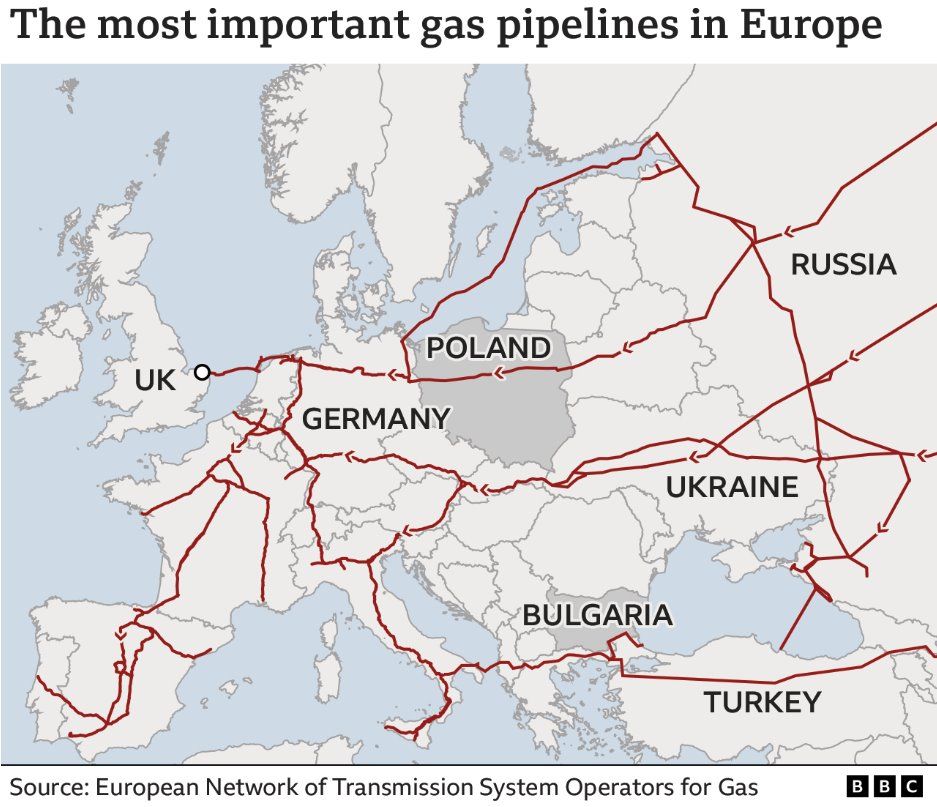 Will this leave Europe short of oil?
Some European nations could still have their oil supplies significantly squeezed by the ban.
Lithuania and Finland imported about 80% of their oil from Russia in November last year.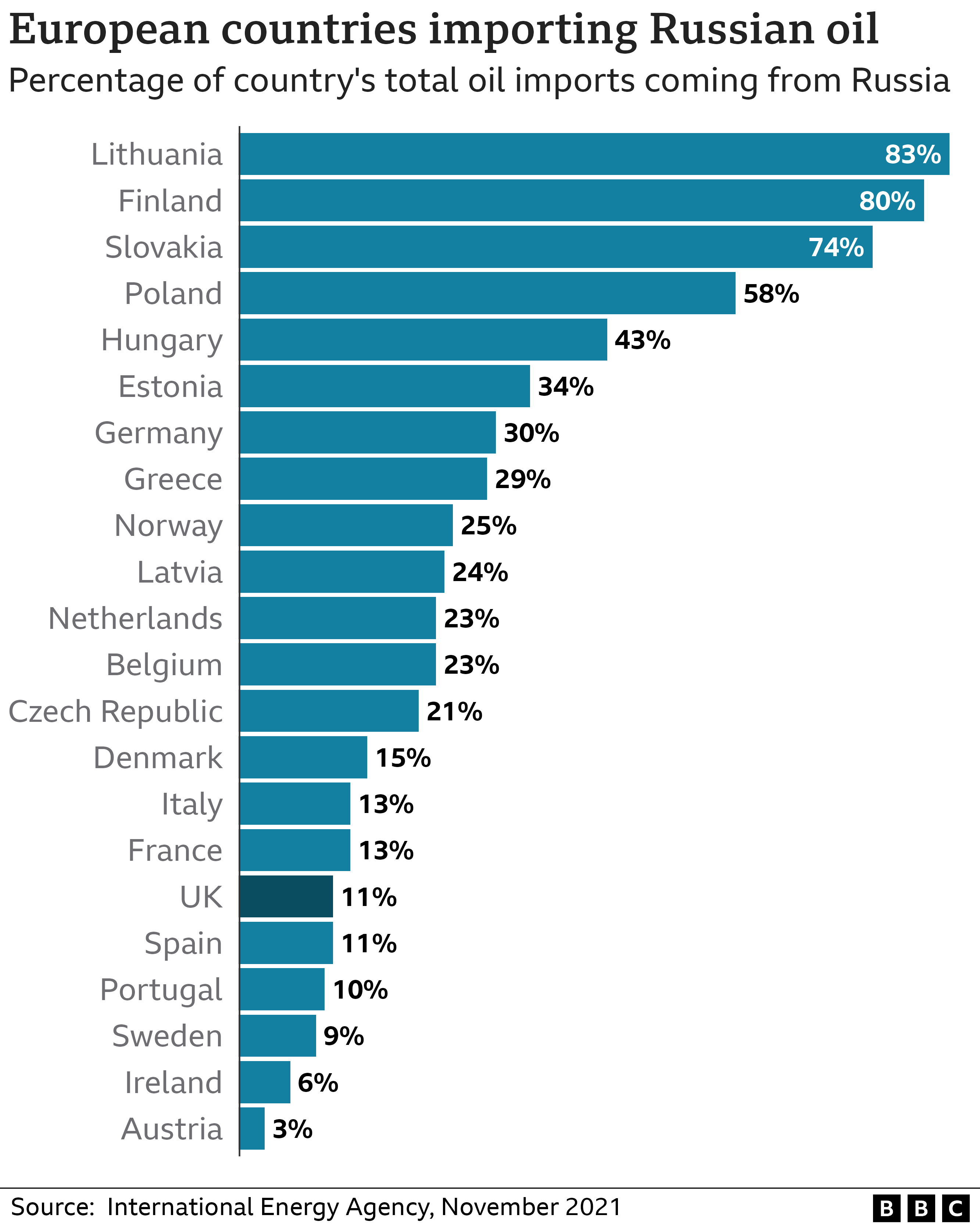 However, EU countries can buy oil from other producers.
Earlier this year, the IEA – a club of oil importing countries – agreed to release 120m barrels-worth of crude from their stocks, and President Biden ordered a major release of oil from America's reserves.
The US has declared a complete ban on Russian oil imports, and the volume of oil imports by the UK has fallen sharply in the last year.
Helped by soaring energy prices, Russia received an estimated €400bn ($430bn, £341bn) over the past year from oil and gas exports to Europe.
David Fyfe of Argus Media says that high global prices of oil have pushed up the amount Russia earns from crude oil exports by 41%.
The EU says its latest sanctions could cut the amount of oil it buys from Russia by 90%. However, this will take months to come into full effect, and even then Russia will be able to sell oil elsewhere in the world.