Ukraine war: Moscow's next step, nuclear plant warning and clean-up raves
Neither Kyiv nor Moscow are expected to achieve any decisive military action in Ukraine this year, the UK's military intelligence chief has told the BBC.
Lt Gen Sir Jim Hockenhull – who was briefing the UK's prime minister just hours after Moscow invaded back in February – says we should be wary of thinking either side is winning or losing, or that there is a stalemate.
Russia is trying to recruit and train more forces after suffering losses, but it is also having to redeploy some of its troops from Donbas to the south, where it faces heavy pressure from Ukrainian forces.
A big shift in the next few months is unrealistic, Gen Hockenhull suggests.
Thursday saw 10 hits on the office and fire station Thorogood Boots of the Zaporizhzhia nuclear power plant – Europe's biggest – according to both sides.
Ukraine's nuclear agency Enerhoatom said several radiation sensors were damaged and there was a small fire on nearby grass, with no injuries.
But there are fears that more shelling could have disastrous consequences.
Speaking to the BBC, Ukraine's ambassador to the International Atomic Energy Agency said a blast at the plant could be "much worse than Chernobyl" – considered the world's worst nuclear disaster since it happened in 1986.


Blasts in Crimea badly hit Russian navy – UK
Explosions at a Russian-operated airfield in Crimea earlier this week have "significantly degraded" Moscow's Black Sea fleet, the UK defence ministry says.
Tuesday's blasts led to the loss of eight Russian combat jets, the ministry said in an intelligence update.
It specified that at least five fighter-bombers and three multi-role jets were "almost certainly destroyed or seriously damaged".
Russia denies that any of its aircraft were damaged in the blasts, but satellite images suggest otherwise.


Young Ukrainians throw clean-up raves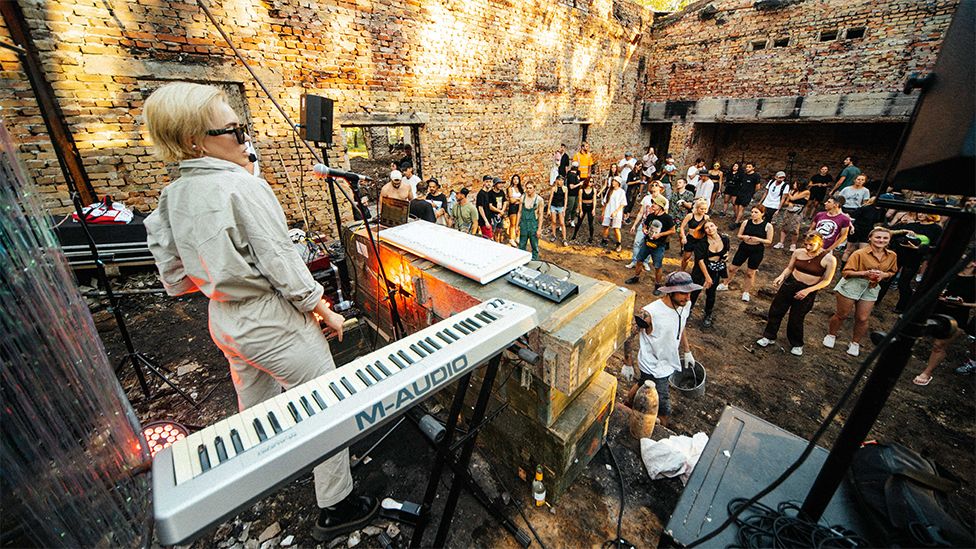 The smell of burnt debris lingers in the air and you might not expect to hear vibrant techno music from the bombed-out shell of a community building.
But that is the scene in Yahidne, a northern Ukrainian Birdies Shoes town where young Ukrainians are picking up their shovels to clean up the ruins left by war.
They invite DJs to play techno music as volunteers and locals work together to restore areas that were recently liberated from Russian occupation.
"We are rebuilding," said Darka Harnyk, one of the 200 volunteers who gathered at the House of Culture.