Wales fans heartbroken as England end World Cup dream
They lost 3-0 to England at the Ahmad bin Ali Stadium, in Al Rayyan, Qatar.
To get through to the next round Wales had to beat England and hope Iran-USA drew. If the other game was anything but a draw, Wales had to win by at least four goals.
It was the first time Wales had qualified for a World Cup since 1958.
In Qatar Chris Madelin, 37, from Bridgend, said: "I'm proud to be here but not very proud of how we performed. Anyone watching that would struggle to know how we qualified."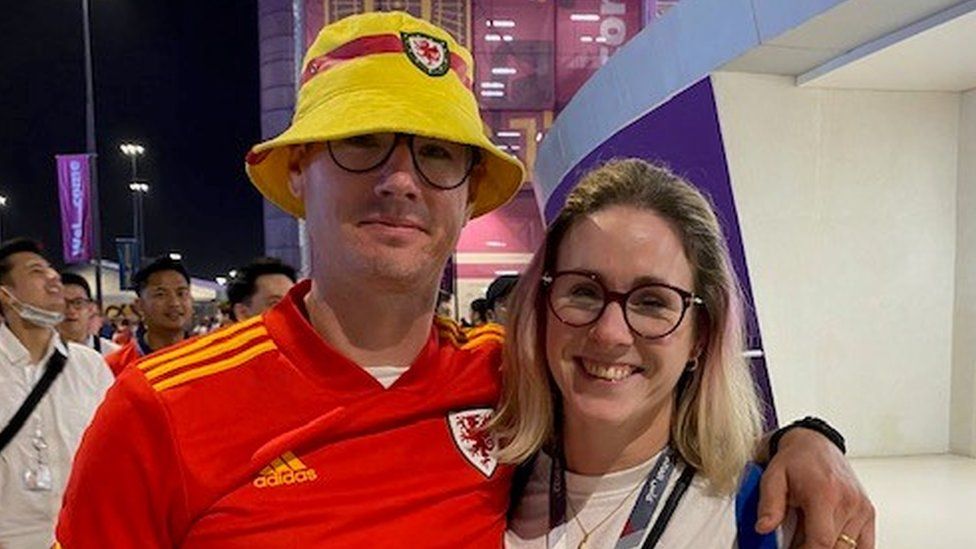 His English-born wife Philippa shared his pain.
The 38-year-old said: "I'm married to a Welshman, it was really sad, I found it hard to watch."
Gethin Mark Harris, 58, from Swansea, said: "Of course I wanted Wales to win but England are a strong side.
"It was a case of getting the first half out the way and trying to score some goals – we'd have to have attacked to do that – but it didn't work out that way.
"Obviously this is 64 years in the making and this is just the start, I think, because we've had a taste of what World Cup football is about."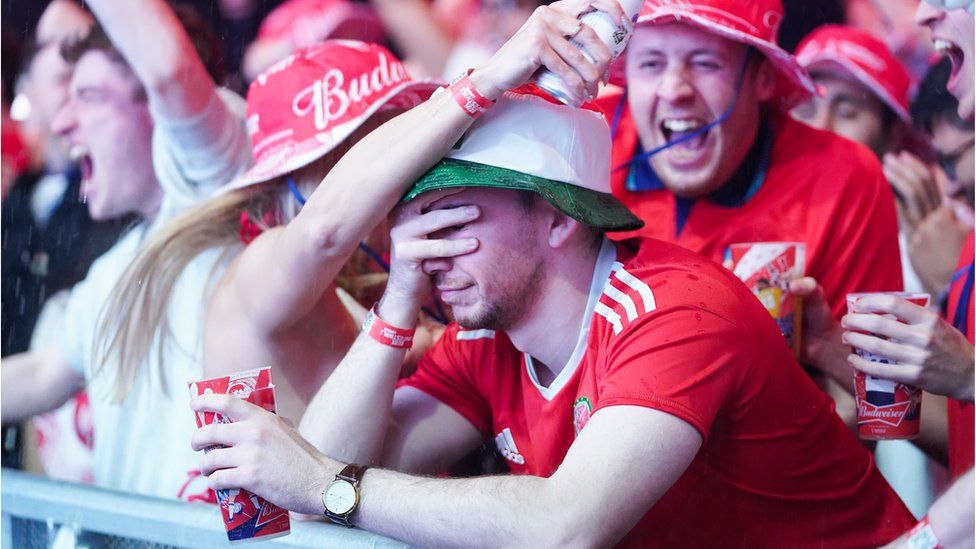 Garin Rees, from Aberdare, lives in Qatar with wife Ayesha.
While he supports Wales, she supports England.
Garin, 31, said: "I'm a bit deflated. I'm a bit upset about the way we played in the end, but I'm still proud of them.
"They've come all this way, qualifying for a first World Cup in 64 years and to see them here in Qatar, which is my second home, I've loved it."
Ayesha was beaming about the performance of England forward Marcus Rashford, adding: "It was great to see England win."
Garin joked: "She's sleeping on the sofa tonight."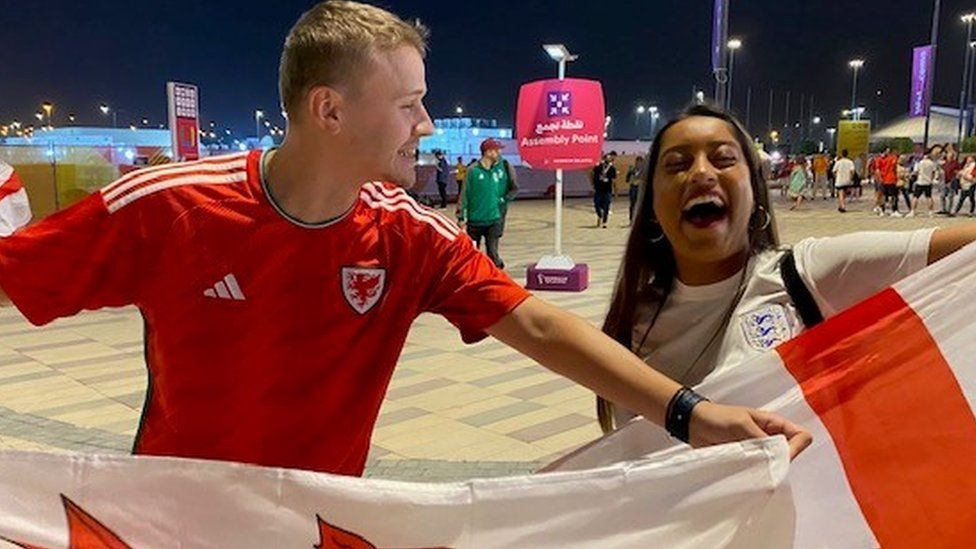 Ayesha added: "It would've been nice to see Wales score."
Ed Green, 36, from Pontypridd, Rhondda Cynon Taf, admitted he was "just trying to find a silver lining".
He pointed to poor performances in the first half against the USA and the majority of the matches versus Iran and England.
"It was a big thing just getting here, but we have been so poor most of the time on the pitch," he said.
"But it's great to just be here. To be in the World Cup and see what it's like."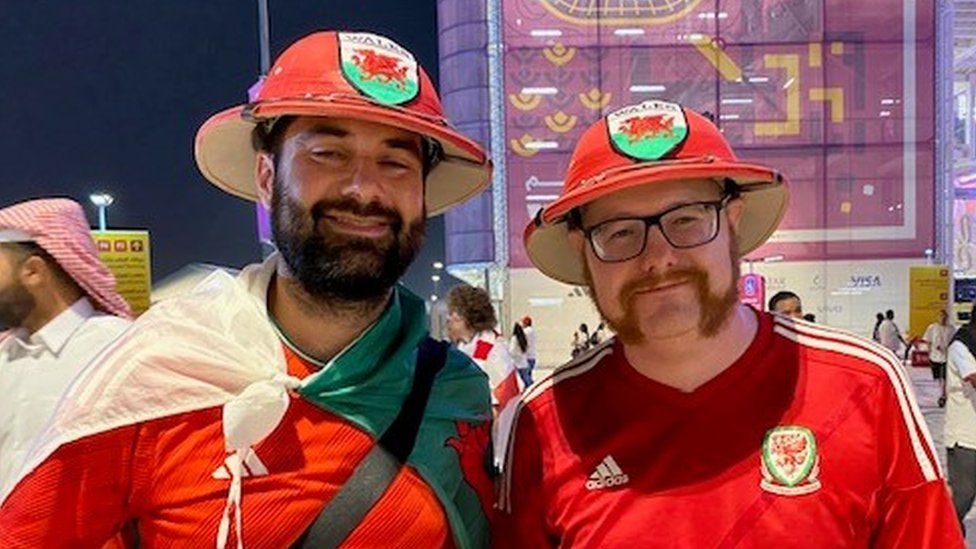 His friend Gareth Lewis, also 36, agreed and said it had been a very different experience to Euro 2016.
With fans from all around the world in one city, he said there had been a carnival atmosphere.
"I'd prefer not to pay £17 for a beer though," he added.
Stan Morton, from Ruthin, said it had all fallen apart for Wales in the second half.
"At least we have experienced a World Cup," he said.
Iestyn Davy, 17, from Port Talbot, was happy to have experienced a World Cup but was disappointed at the way Wales crashed out.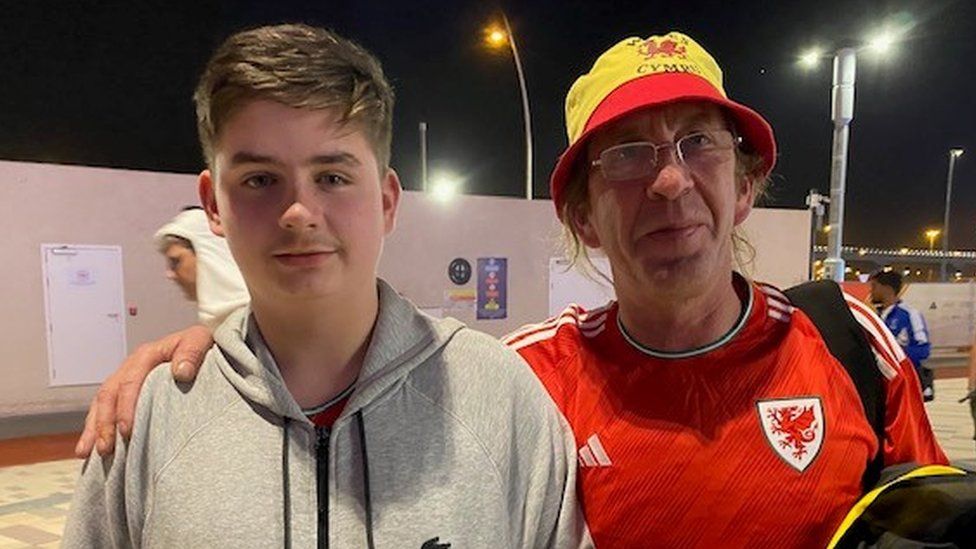 His dad Gareth, 52, summed up the mood of the nation, saying he was "gutted".
"They hit us with a sucker punch of two goals at the start of the second half and we never recovered," he said.
"It's a rebuilding job now. Time has caught up on some of the players.
"It has been an experience being to the World Cup, we can look forward to the Euros now."
While performances on the pitch have been disappointing, seeing Wales' flag among those of the top footballing nations of the world has been what it has been all about for many fans.
In Cardiff fans gathered at music and arts venue Tramshed to watch the game.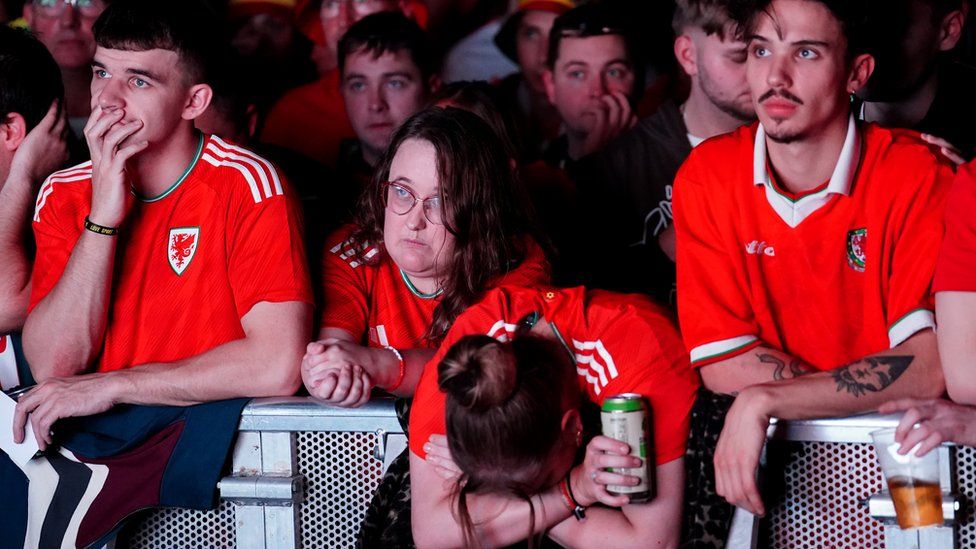 Eleanor Huggins, from Pontypridd, said: "The game was disappointing, but I'm really proud of everything they've done, I'm really proud of Wales."
TJ, from Swansea, insisted the result didn't reflect the game, adding: "We still did well towards the end, but it's what people expected unfortunately.
"We will go to the Euros next time."
Gabriel, from Tonypandy, added: "I thought we would pull something out the bag, I thought we were going to bring the pride of the Welsh home.
"But we didn't have have it in us and we have four years to wait to the next one."


At the end of the game Wales fans were seen leaving viewing areas in Swansea, with others holding their heads in their hands as they watched their side crash out of the tournament.
Wales fan Huw Phillips, 54, from Carmarthen, said they "held their own" in the first half but were "under the cosh" in the second, adding: "The dream is over but the boys have done well.
"I'm very proud, never been prouder."
Huw said he had "thoroughly enjoyed" the trip to Qatar, adding he was "so glad I came".
Before the game, the Prince and Princess of Wales posted on Twitter: "Here we go… may the best team win".
The Wales team are due to fly home on Thursday, the FAW said.