World Cup: Fans' nerves as Wales draw in World Cup return
Wales drew 1-1 with the USA in Qatar, in their first World Cup match in 64 years.
Thousands of fans travelled to Qatar, with many more heading to pubs and fan zones back home.
The Prince of Wales showed his support by tweeting in the Welsh language, with a picture of his Wales supporters bucket hat.
Prince William wrote: "Ar ôl cyrraedd Cwpan y Byd #FIFAWorldCup am y tro cyntaf ers 1958, mae'n rhaid gwylio gêm gyntaf @Cymru mewn steil."
Translated, it read: "Having reached the World Cup #FIFAWorldCup for the first time since 1958, the first @Cymru match must be watched in style."
One fan who also watched the match in style was 10-year-old Joe at the chemotherapy unit of Noah's Ark Children's Hospital for Wales.
Kitted out in his Wales shirt and bucket hat and speaking ahead of the match, Joe said: "Can't wait for tonight! So glad I have a TV in my room."
"I think we will win 2-0 today and will beat Brazil in the final 4-2," he added.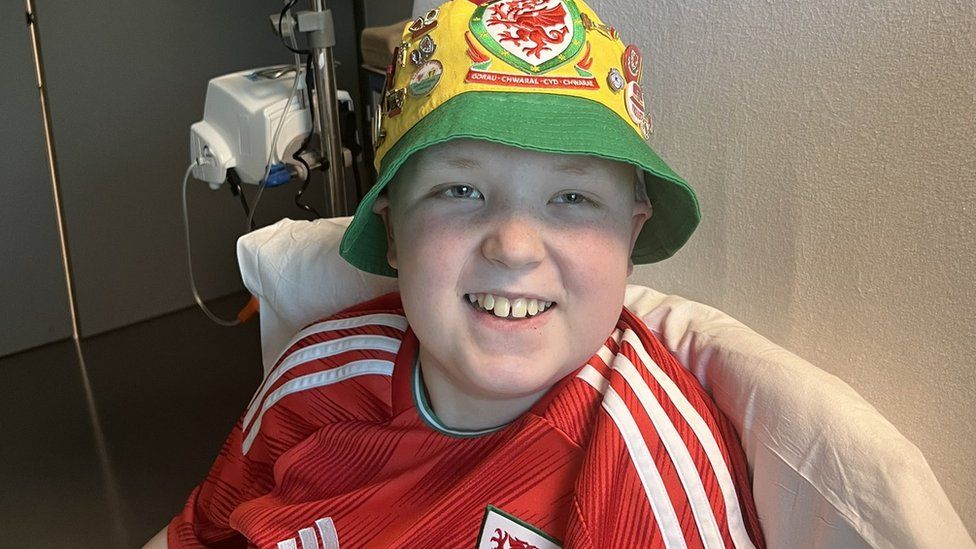 However, after attending the match in Doha and witnessing the draw, Nerys John, from Felinheli, Gwynedd, said she was was proud the Ddraig Goch (Red Dragon), and enjoyed the "razzmatazz" of the game-day experience.
She said: "It was amazing to be here. The best part was that the game attracted people from all around the world and probably many of them wouldn't have heard of Wales before," she said.
"That's the power of this tournament, and the exposure it gives the Ddraig Goch on the world stage."
Nerys' husband Gwilym said he was pleased with the result and said it gives them a platform to build on.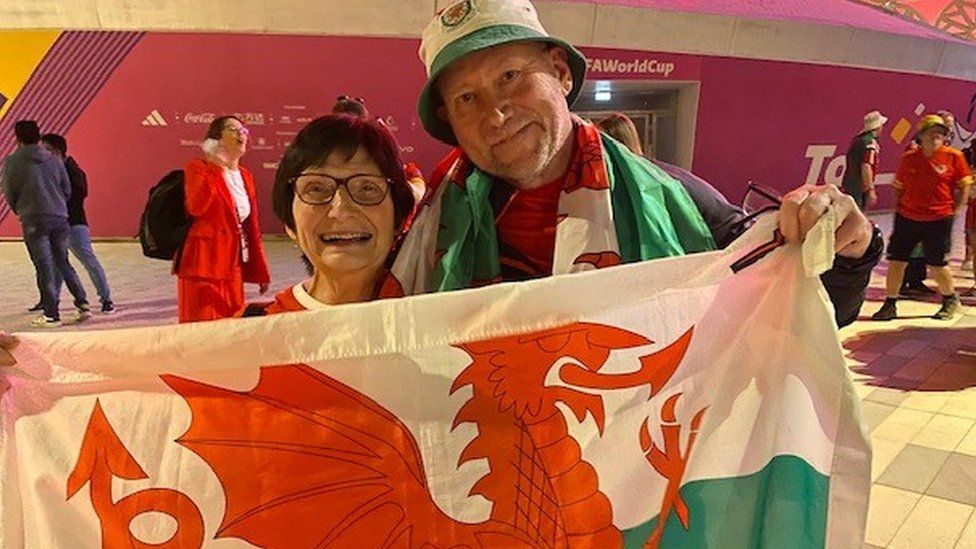 While many people have waited as many as 64 years to see Wales at the World Cup, one young fan, Lake, has only had to wait one.
Not only that but he got got to see his dad play – Wales winger Daniel James.
His partner Ria said: "We are so very proud and we're impressed with how they played."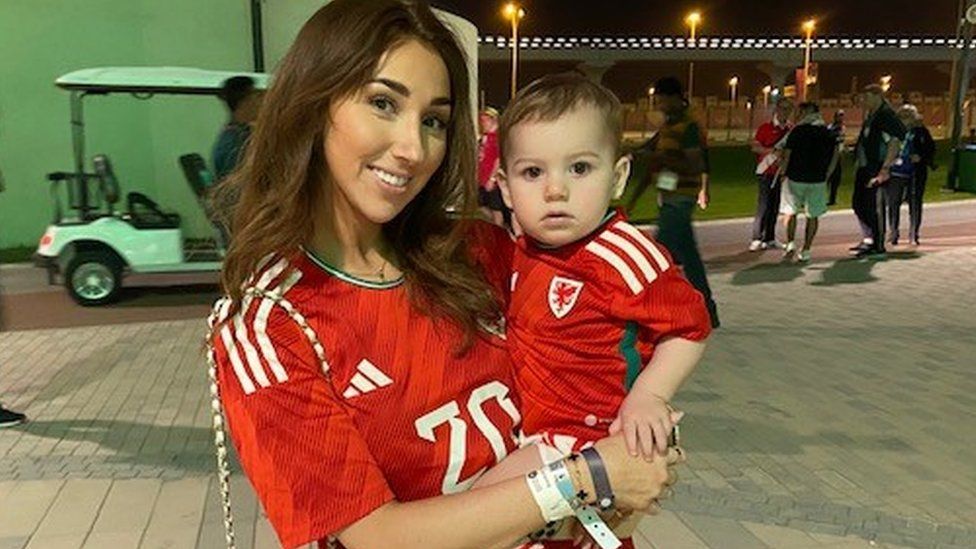 One young fan was so excited to watch Wales at the World Cup that he wouldn't let his own due date get in the way.
Ryan Chard said his son Harper, who was due on 1 January 2023, "couldn't miss this monumental moment so arrived 12 weeks early to be safe".
'Cheering on the boys in the neonatal ward'
"I've waited 37 years to see it, my father was 14 months old when they were last in a World Cup so he can't remember it," he said.
"My boys haven't had to wait long at all and they'll hopefully get to see Wales at lots more major conceptions.
"Harper is still on the neonatal ward at UHW (University Hospital of Wales) and was cheering the boys on! Shout out the the staff there, they've been amazing."
Sharon Davies, 60, from Aberdare said: "It was a fantastic experience, definitely worth travelling from Wales for.
"Seeing the equaliser was amazing, Bale didn't let us down at all, he never does. We can always count on him.
"The crowd as well were amazing, the way they sang and supported the side."
Richard Jones, from Penmaenmawr, Conwy, admitted the first half had left him full of nerves.
He said: "It was definitely a game of two halves. I think if you offered me a 1-1 draw at half time, I would have taken it."
His friend Bleddyn Jones agreed, and praised all the Wales youngsters, such as Ethan Ampadu, Harry Wilson and Neco Williams, who kept running throughout.
Joel Sycamore, 23, from Cardiff said: "It was a fair result no complaints. We were better second half, they were first."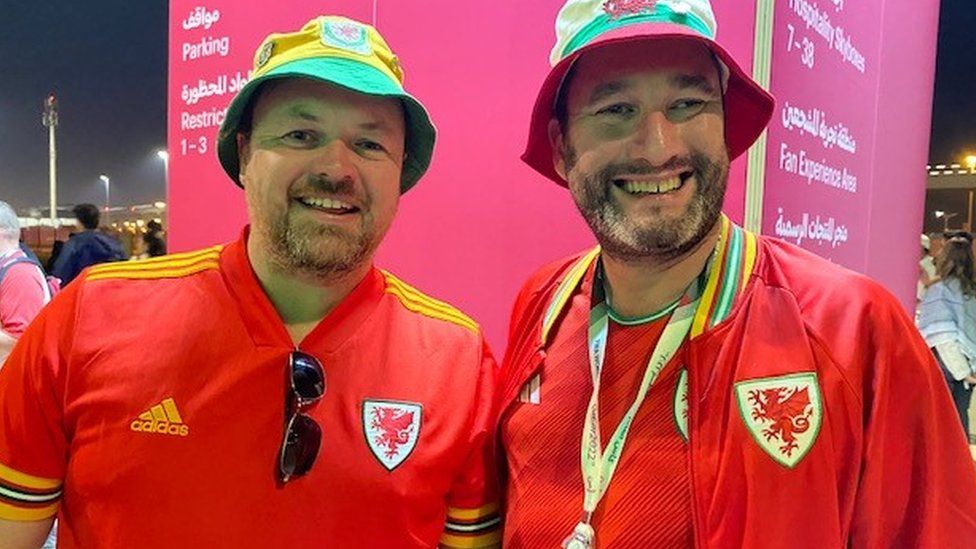 In Qatar fans began arriving at the Ahmed bin Ali stadium ahead of the 22:00 kick-off local time (19:00 GMT).
Two of the first Wales fans to arrive – around three hours before kick-off – were James Walton, 43 and Stuart Reed, 48.
They travelled from the Cayman Islands to support Wales in Qatar.
"The buzz is growing. This is such a massive game," said Stuart.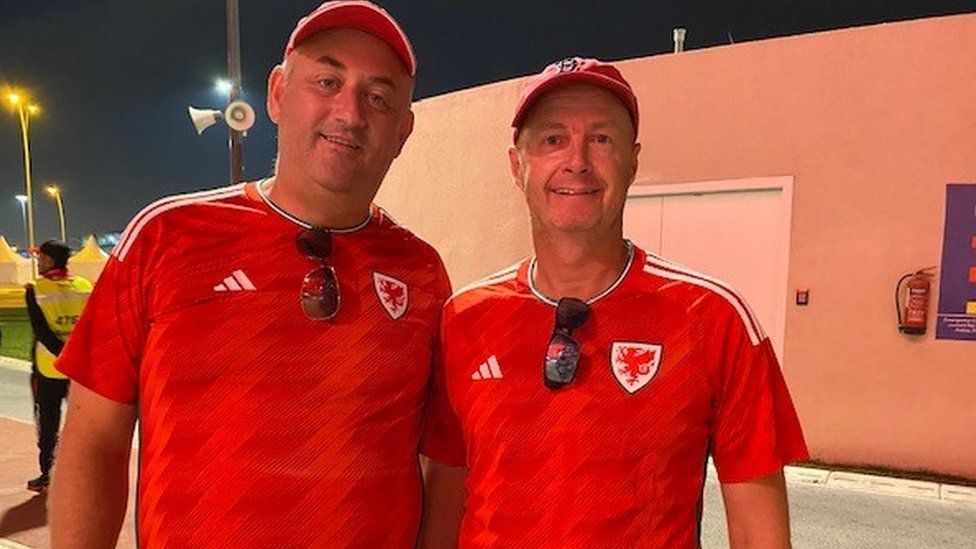 Fans from around the world have travelled to Qatar to support Wales, with Ardra and Ardsh making their way from India.
Wearing Wales flags as capes and kitted out with scarves and flags, the pair were getting to know fellow fan Ian Davies, 59, from Cardiff, ahead of the match.
"We have been here in Qatar 12 years and been waiting for this since it was announced," said Ardsh, adding: "We had to support Wales because of Bale and Ramsey."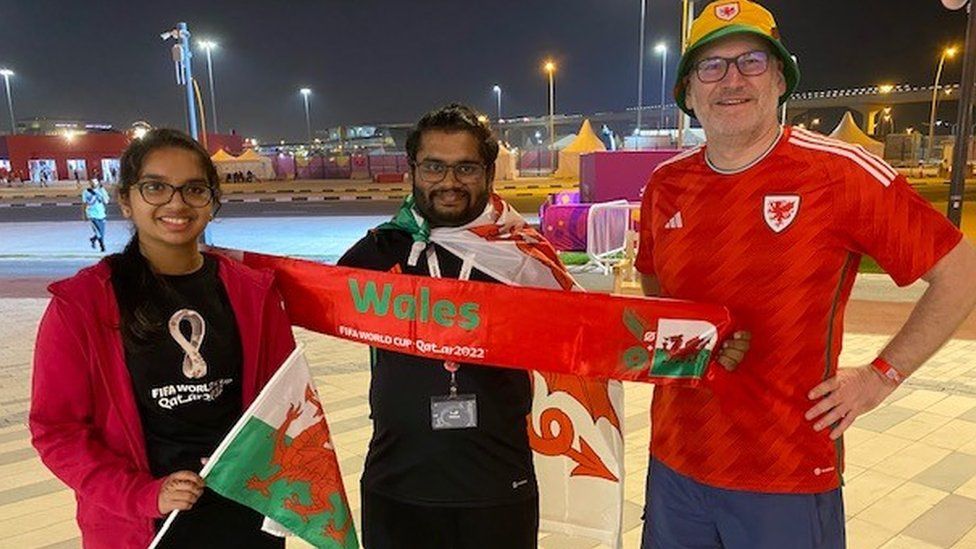 'All of our dreams have come true'
"It's a bit different from walking to the Cardiff City stadium from Grangetown and Canton, isn't it?" beamed Ian.
"All of our dreams have come true, we never thought we would see this.
"Just the most incredible atmosphere."
Elsewhere, The Liberty Bar in New York City was filled by bucket hats and Welsh jerseys as fans gathered to support their team against the USA.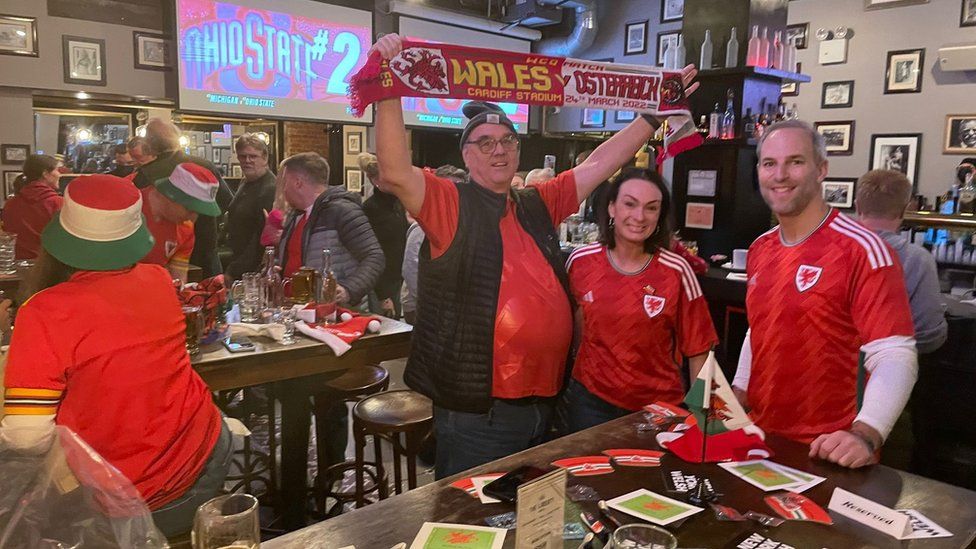 In Wales, about 1,500 fans were expected to descend on Depot in Cardiff to watch the match, along with fan zones across the country.
Bleddyn Williams and his son Osian watched the game in Neuadd Ogwen, Bethesda.
"I'm just really looking forward- it's been a long time. A lot of years of suffering. Just to be here in Neuadd Ogwen with the kids, it's great isn't it!" said Bleddyn, a teacher in Bangor.
Today has been a long day not just for the pupils but for teachers too.
"We've all been watching the clock and keeping an eye on England. The bucket hats are everywhere. Some of the pupils had their footies shirts on underneath their school jumpers too!"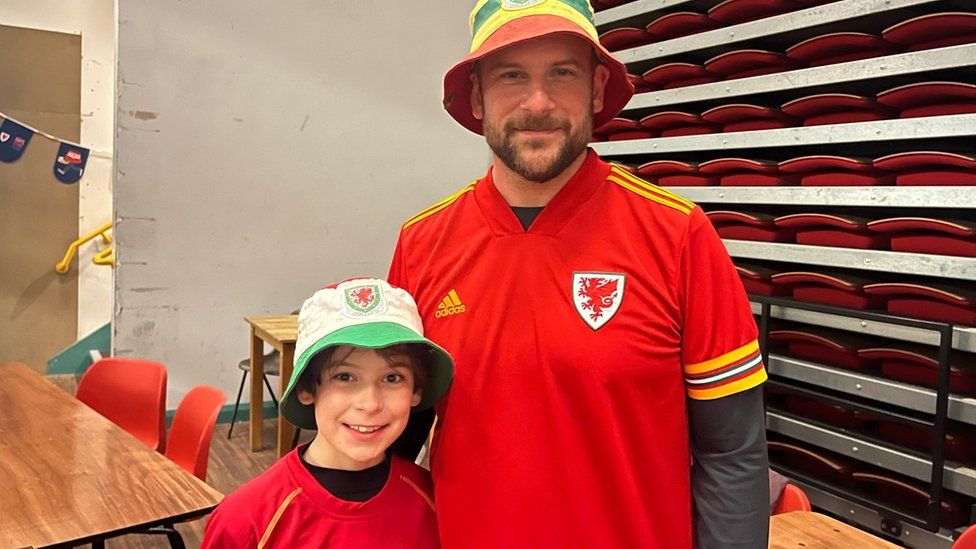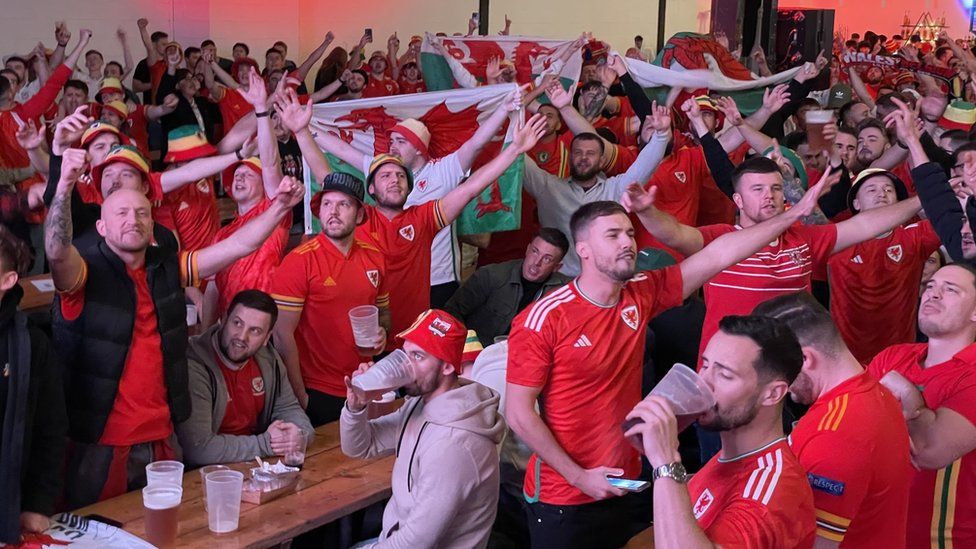 Back in Qatar, Dave, 54, and Eddie Smith, 22, live in Texas and were in traditional Qatari dress and waving Wales flags.
"We are here to wish Wales success," said Dave, originally from Birmingham.
"But we have a confession."
They turned around to reveal that under their outfits they wore Harry Kane and Jack Grealish shirts.
"We have just been to the England game, so hoping it's a draw," Dave added.