World Cup: Songs help partially-sighted Wales fan enjoy games
Wales being the Land of Song has an extra special meaning for one fan – who is experiencing the World Cup through music.
Cai Emlyn Davies lost most of his sight when he was nine and is not able to follow the action clearly on the pitch.
So it was the euphoria that resonated in the stands that told him Gareth Bale nailed the equaliser against the USA.
For Cai, Wales as a footballing nation goes hand-in-hand with it being a musical one as well.
As much as it is about the exploits on the pitch, it is about the goose bumps of Hen Wlad Fy Nhadau and the raw emotion of Yma O Hyd.
It is about the music of the Barry Horns and the Red Wall singing Calon Lan, Don't Take Me Home or Men of Harlech that connects him to the action.
"I think losing my sight at such a young age has helped me further along in life as I've had to learn to live with it," said Cai.
"My sight loss doesn't stop me doing my day-to-day activities and I'll always be grateful for what vision I have got – many people I know suffer far worse than I do, I count myself lucky most of the time."
Like the rest of the nation, he waited on tenterhooks for Bale to take his penalty against the USA – and he didn't need to see it hit the net, he could feel it all around him.
The 27-year-old was born with a genetic disorder called Neurofibromatosis, meaning he gets lumps and lesions on his skin and nerves.
When a tumour appeared on his optic nerve, he lost 80% of his vision, but it could never affect his love of football, which he said was "from birth".
Both his parents played and some of his earliest memories are watching his dad star for his hometown Newcastle Emlyn in Carmarthenshire.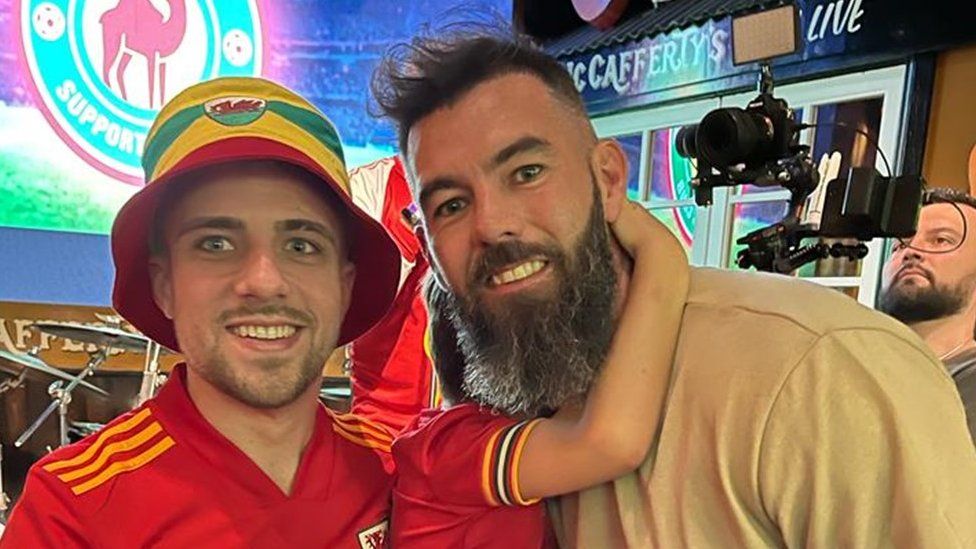 Cai, who works for Cardiff council and plays for a visually impaired rugby team, added: "It means everything, to witness something I thought I'd never see is just the stuff of dreams. I just hope we can get out of the group."
He has travelled with parents Richard and Nia and their friends Morlais and Anwen, who have ensured his sight loss has not affected the trip too much.
They are staying in Dubai and flying into Qatar for each Wales game.
Cai added: "They've guided me along the way and they've been my eyes for me.
"And definitely, even though I might not see everything going on around me, I can hear and feel the atmosphere."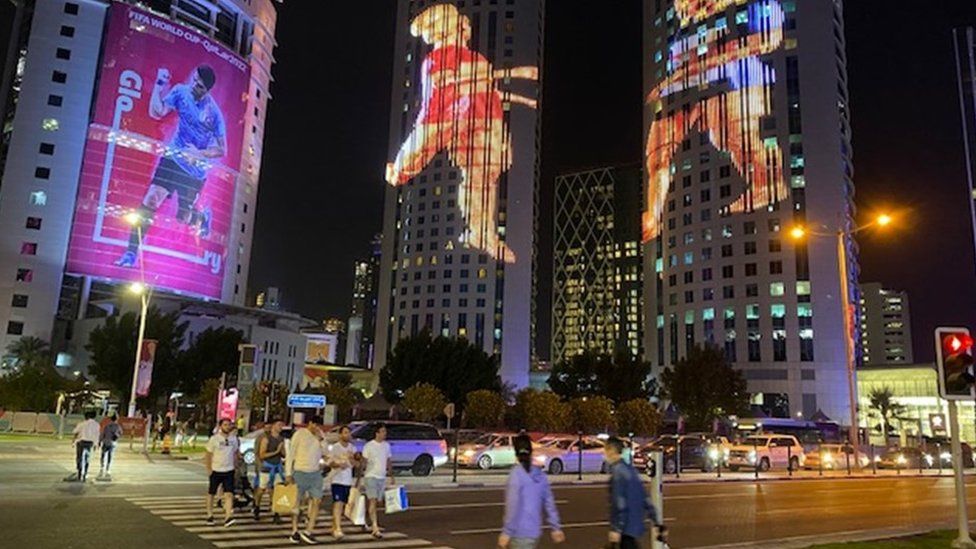 RNIB Cymru's director Ansley Workman said Cai's love of live football showed "how diverse the red wall is".
"We know that some blind and partially sighted people can be put off from attending live matches, but Cai's experience shows that anything is possible," she added.
"Being at a live match is a sensory experience, from the smell of the turf to the experience of the Welsh fans in full voice singing the national anthem."
At the World Cup, Cai and thousands of others have partied to the music of The Barry Horns – a group that is playing a significant role in re-energising Wales' image as the Land of Song.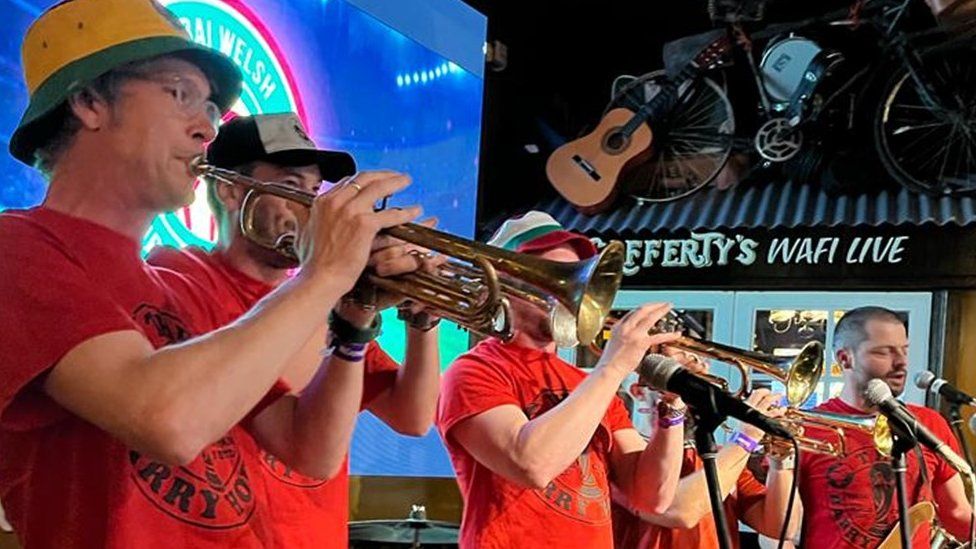 Based in Dubai and flying into Qatar, the band have already played in embassies in both countries, in the stadium and at a number of packed and passionate fan events.
"The people over here have been amazingly welcoming, not just the fans, but the locals too," said the band's Gareth Evans.
"A highlight has been playing in the stadium for Wales in the actual World Cup, which hasn't actually sunk in.
"The response at the gigs we've been doing around the games is incredible so far and we're buzzing to be part of it all."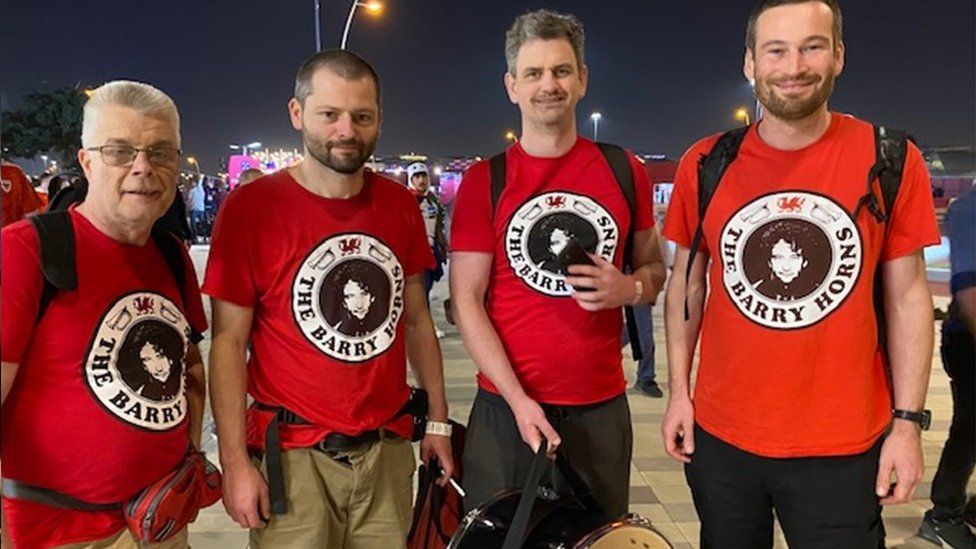 While the brass band's name pays homage to former Wales star Barry Horne, their music eulogises various heroes on the pitch.
A song featuring Hal Robson-Kanu's name to the beat of Salt-N-Pepa's Push It became popular after his wonder goal against Belgium at Euro 2016.
Another familiar face from that tournament – Joe Ledley – also joined the group on stage in Dubai for a spot of dubious trumpet playing as they sang about him at an event to mark the start of the World Cup.
Many legends were created during the Euros in France six years ago – it remains to be seen who of this current side will step forward and be sung about for years to come.