World Cup: Wales fans' despondency fades as kick-off nears
Wales fans are starting to feel more upbeat as kick-off approaches for their World Cup game against England.
Wales must beat England and hope Iran-USA is a draw to go to the next round. If the other game is not a draw, Wales need to beat England by four or more.
Earlier they began gathering on the front in Doha and at a fan party at a hotel.
Rhodri Charles, from Cardiff, thought Wales were down and out after the first two games.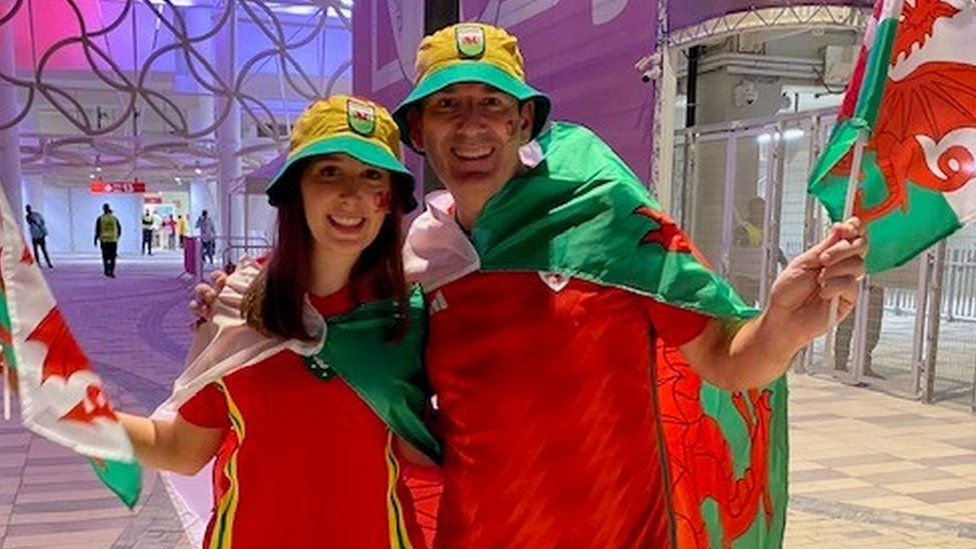 "The closer we get to kick-off, I start wondering if we can actually pull it off," the 47-year-old said.
His wife Anwen, 45, added: "We have to keep believing."
Julie Morgan, 65, from Abergavenny, was confident the players could put in a performance.
"It will be a long trip back on a flight full of English people if we lose," her friend Julie Cashell, 46, said.
"We have got to do it. It's now or never."
Ed Buckley, 56, from Anglesey but living in Glasgow, said: "Hopefully the boys will turn up. Just 1-0 and then hope for a draw in the USA v Iran game.
"It's just fantastic, I've waited all my life for this."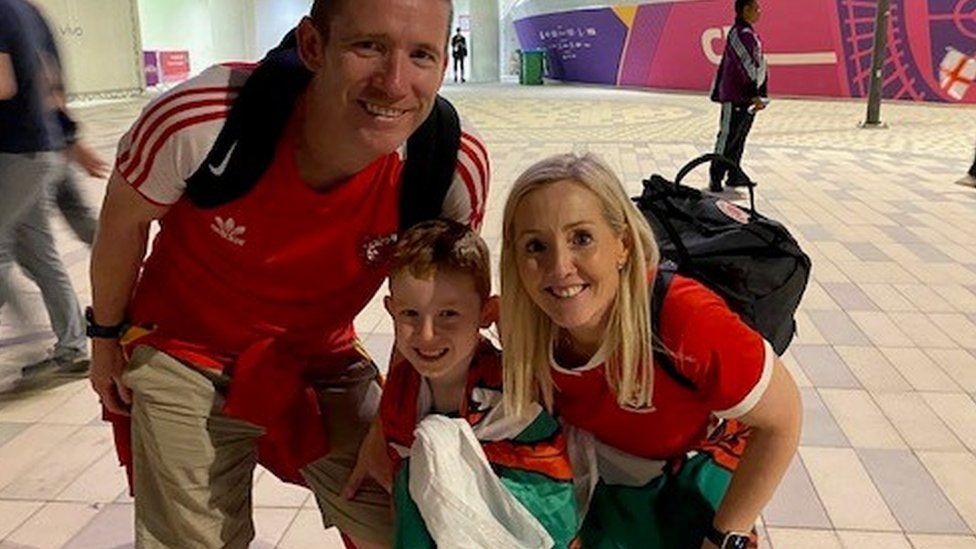 Daughter Charlotte, 22, said being among the Welsh fans was "incredible".
Harout Yacoubin, 24, from Lebanon, was carrying Wales and England flags.
The Germany supporter said: "I am a neutral but think England will win."
"We all know what we want," said Sue Moses, 57, from Aberdare, Rhondda Cynon Taf.
"A win would be nice. It won't be 4-0 but we got here, that's the main thing."
Her husband Martyn, 57, added: "Form is not on our side and it would be a big ask to beat England even if they play poorly."
However, Lee Hosking believes this game was always going to be "the main focus" regardless of other results.
The 55-year-old from Swansea said: "We're not going to win the World Cup. But let's have a good result against England and we can have an open top bus then."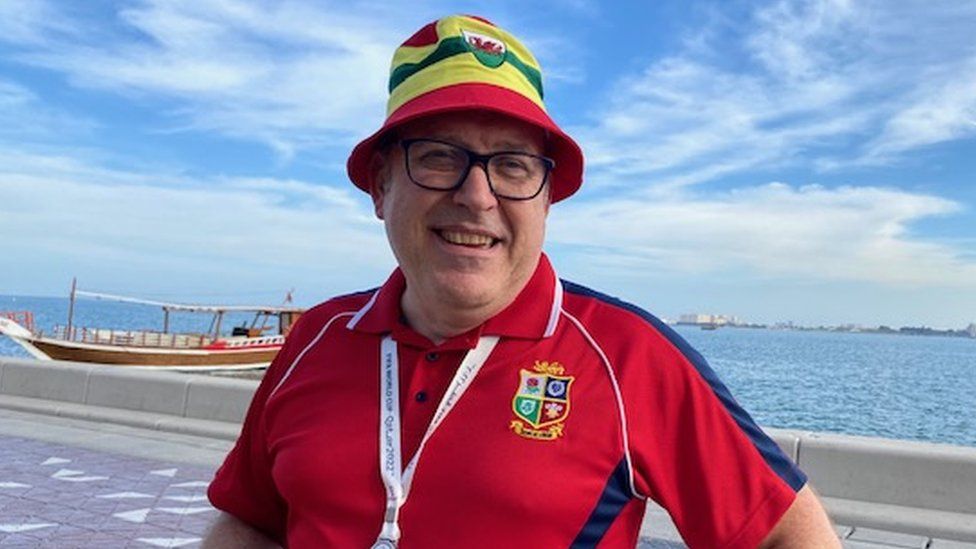 Bethan Richards, 50, said after two poor performances, the side will have motivation to do well.
"They didn't play well against the USA and this is our last big chance," she said.
"If they don't play well tonight, they don't deserve to be in the team. And I think they will as this is their last big chance."
Helen Furlong, 38, from Gaerwen, Anglesey, said she "just hopes they turn up tonight".
Gerwyn Jones, 36, added: "I'm always hopeful. My heart is telling me yes but my head is telling me no. But stranger things have happened."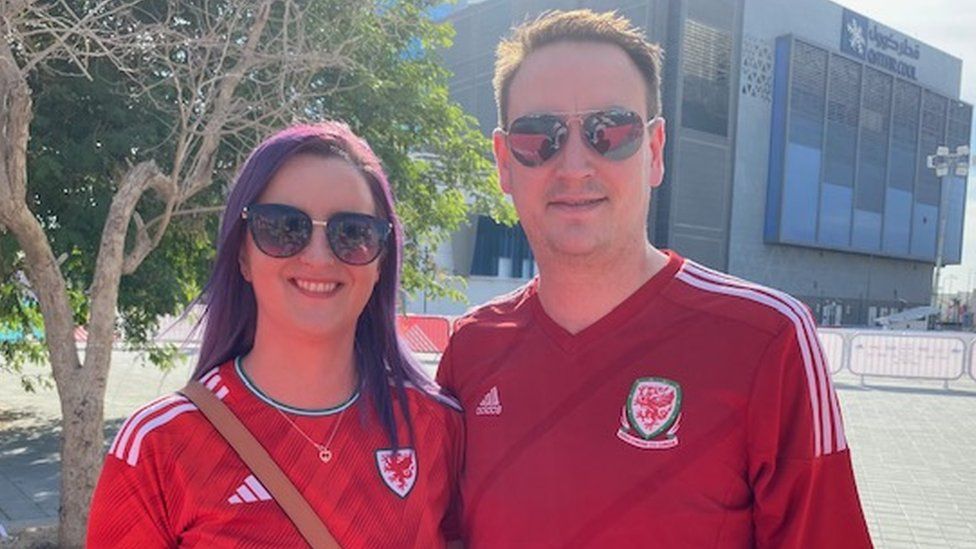 Martyn Kay, turns 40 on Sunday and planned to spend his big day watching Wales in the last 16.
But his dream, shared by the nation, now hangs by a thread.
He said: "With Wales, I'm just hoping that maybe we can pull off a miracle. Hopefully, we can start turning it on and make the knockout stages.
"I'm quietly optimistic now. We always do it the hard way, when our backs are against the wall."
But whatever the outcome, many have been enjoying Wales' first appearance in a World Cup for 64 years and even if the journey ends, it has been one of the best experiences of many fans' lives.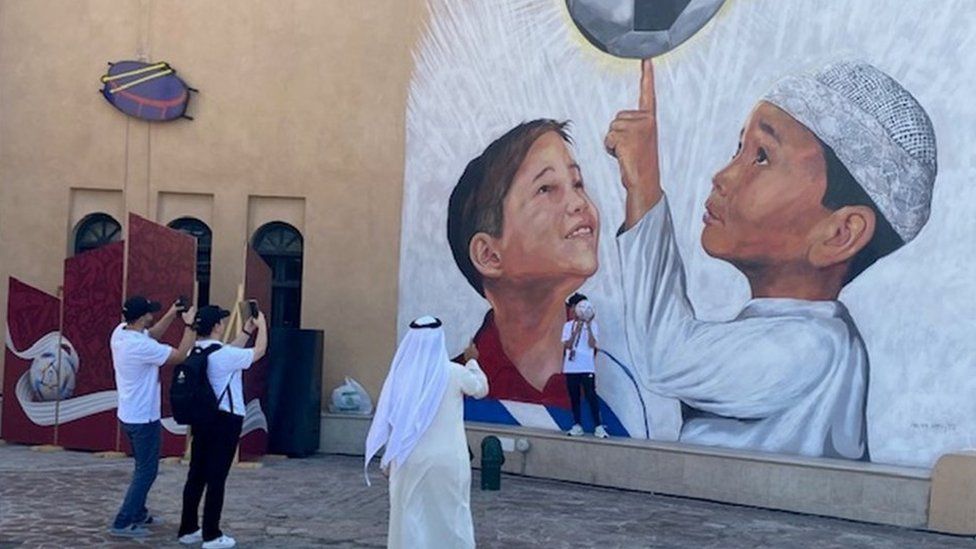 Martyn has flown in from his new home in Hong Kong.
Also there is his friend Matt Womersley, 35, originally from Bangor, Gwynedd, who now lives in Taiwan.
The pair hadn't seen each other for eight years and haven't given up hope of celebrating Martyn's 40th with Wales in the last 16.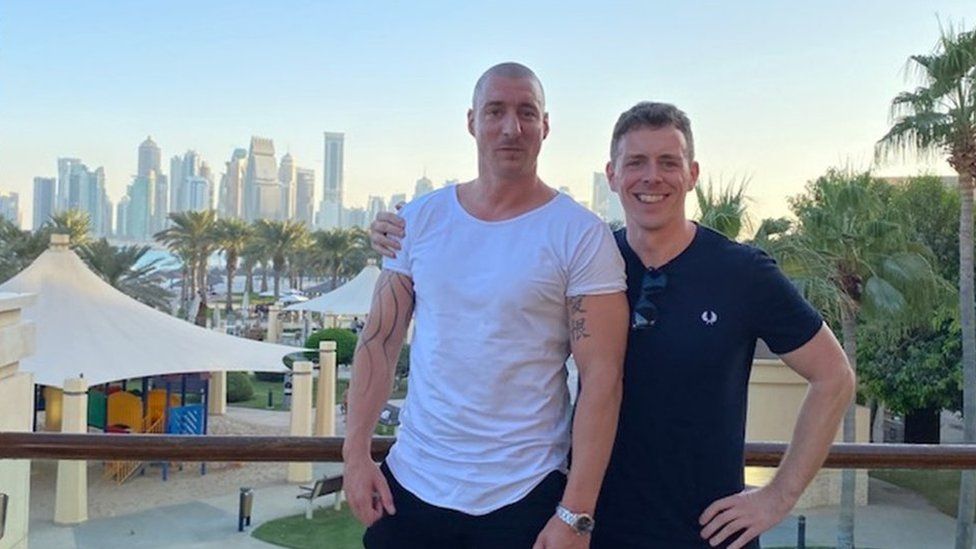 Matt said: "Something has got to happen. We won't go out with the rubbish performances we have seen so far.
"We've got to go for it. We haven't really given it a go yet."
Their optimism is in contrast to most Wales fans around Doha.
Becky Green, 48, from Llantwit Fardre, Rhondda Cynon Taf, described herself as "deflated" after the Iran defeat.
But she added: "We'll bounce back, we are at a World Cup."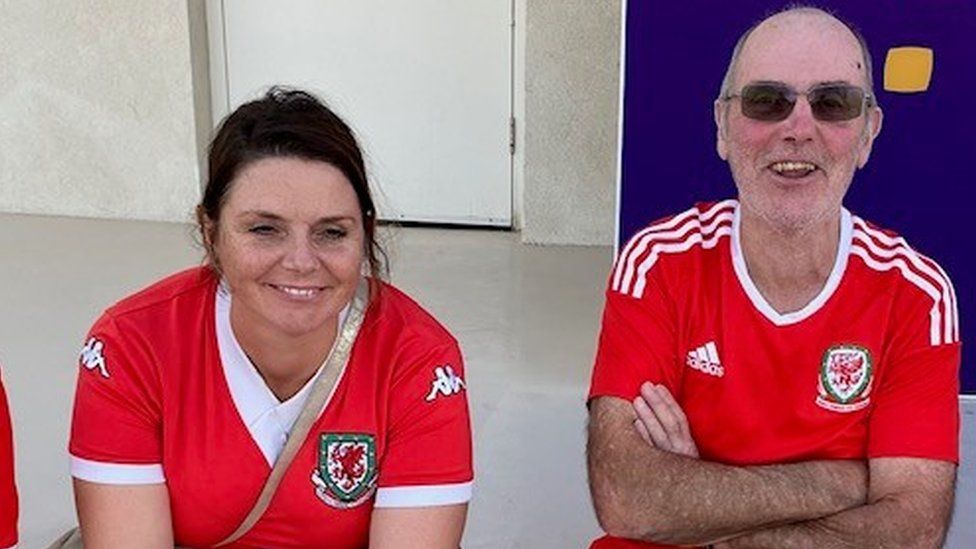 However, she said progress in the tournament was "very unlikely".
Jeff Lee, 64, from Pontypool, Torfaen, said: "We are part of the World Cup experience. We haven't been since 1958, so we have got to be happy.
"But there is still a combination available to get through – we have just got to hope that it is possible."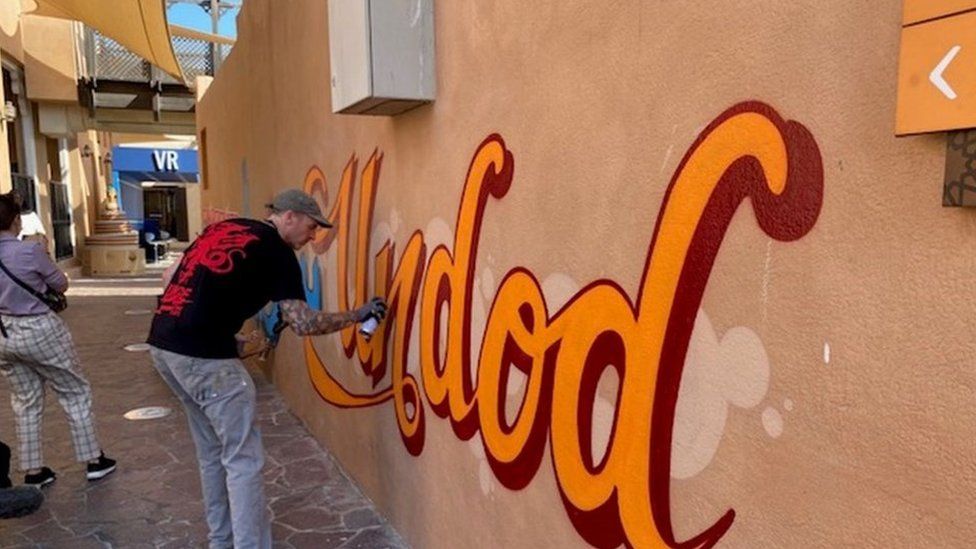 If the team exit the tournament, the fans and the nation have left their mark on the country.
At Katara cultural village, on the outskirts of Doha, the national flowers of Wales and Qatar – the daffodil and qatif – are entwined on a mural.
The words "I am somebody – Rwy'n rhywun" are painted next to it, indicators that Wales is not only "still here", as Dafydd Iwan sang, but is represented and relevant on the global stage.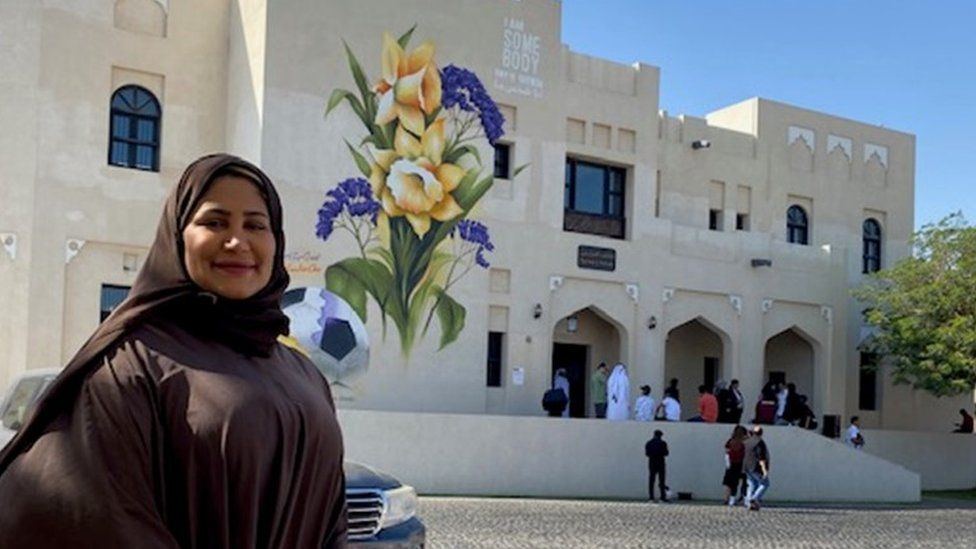 "Art is a universal, spoken language, connecting cultures together," said Qatari artist Muna Albader.
"This (mural) will be a memory left behind from the World Cup. The cultures are speaking to each other through the artwork."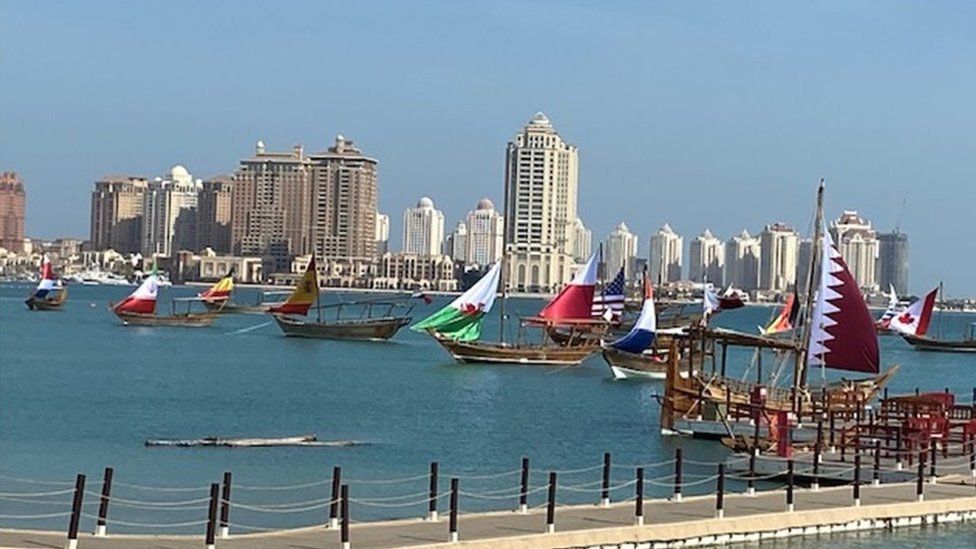 She has been working with creative Welsh people on the mural and hopes to visit Cardiff next year.
Bryce Davies, 39, is a graffiti artist who sprayed the words, "together" and "unity" in Welsh, English and Qatari.
In many ways, he believes the result against England is almost irrelevant in terms of what the World Cup has done for his country.
"For Wales in general, being part of this huge international party celebrating different cultures has been pretty special," he said.
"It's put Welsh football on the map. But the football is almost secondary to me as we have come out here and been proud to be Welsh."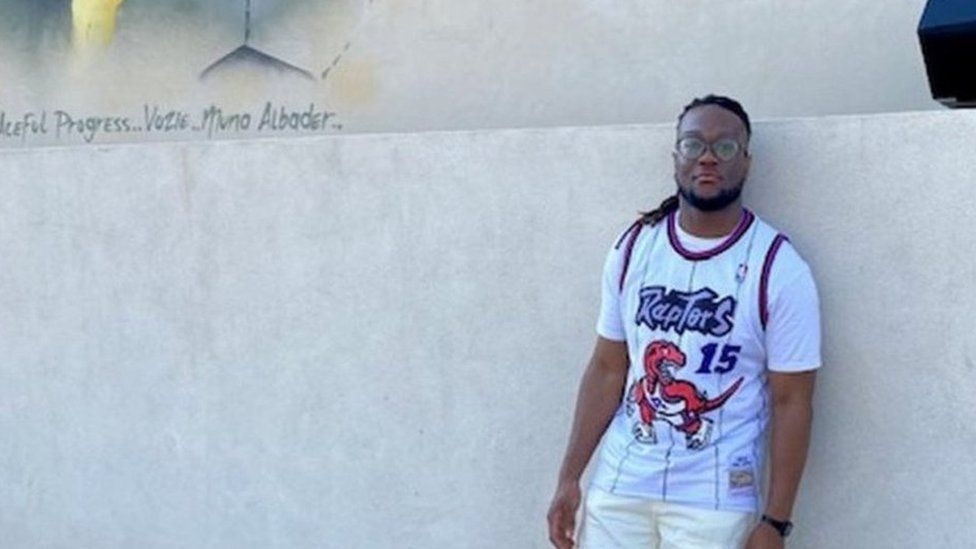 Singer Sage Todz has been performing and says visitors from around the world have been learning from each other, adding: "It's been good to represent who we are, showing our strengths to other countries.
"It's just good to have a chance to mix with each other."
At the waterside, there are boats displaying the national flags of all of the competing nations.
Wales fans will soon find out if their team can deliver a miracle – or if their World Cup dreams sail off into the distance.