How pop singer Dylan turned her Latitude disaster into triumph
That's where, at the age of 10, she played her first show, improvising songs on a piano plonked down in the forest for anyone to play.
"I was just making it up on the spot and a crowd appeared behind me," she says.
But Latitude was also the scene of a devastating revelation that ended up inspiring her breakthrough EP, Purple.
She had been standing in front of the main stage, a couple of years ago, when a schoolmate approached her and said: "I'm so glad you've dumped your boyfriend."
She hadn't but was intrigued.
"Oh, why's that?" she asked.
"Because he's cheated on you with, like, nine other girls," her friend replied.
This year, Dylan turned that devastation into triumph, performing songs about that treacherous boyfriend, metres away from the spot where she had learned of his betrayal.
"I can't lie," she says afterwards, "it felt incredible."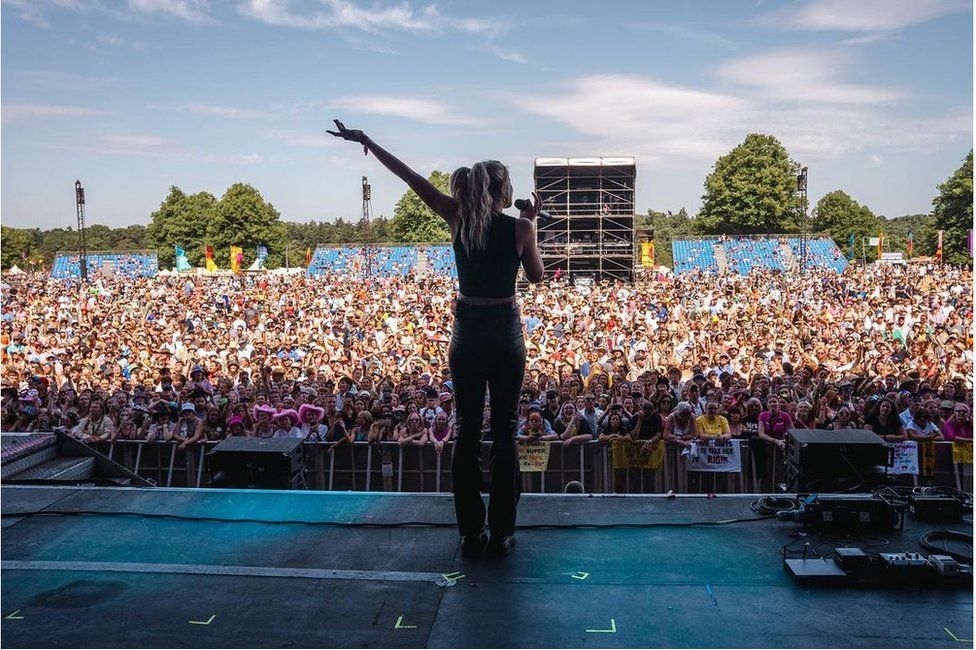 The singer-songwriter was born Natasha Woods, in the small Suffolk village of Bures, 22 years ago – Dylan is the name her parents had picked out for a boy.
Her father introduced her to music on road trips, playing classic rock by AC/DC, Aerosmith and Guns N' Roses at full blast in the family car.
She loved the sound so much he bought her a Karhu Shoes replica plywood guitar, which she painted pink and yellow and hauled on to the kitchen table to give impromptu concerts.
"I would stand there and shout 'Hello Wembley!'", Dylan says.
By the time she was 10, she was eavesdropping on her brother's guitar lessons, before sneaking downstairs to practise the scales herself.
"I picked it up a lot quicker than him. And then he quit," she laughs.
Music was a solace from school, where she struggled academically until diagnosed with Irlen Syndrome, a neurological condition that affected her sight and made it difficult to read.
Picking up piano and guitar by ear, she quickly began writing her own songs – but her ambitions were stifled by a succession of teachers who told her music was an unachievable dream.
"It really knocked me for six," she says. "I became very insecure, underconfident. I never wanted to play in front of anyone."
Luckily, a change of school brought her into contact with Ben Weston, a teacher who saw potential in her "dark, depressing" ballads.
He sent a CD of her music to Grammy-winning record producer Will Hicks (Ed Sheeran, David Guetta, James Blunt), who liked what he heard and booked Dylan for a recording session.
The result was the Purple EP, whose electro-pop ballads echoed the dark and dramatic dynamics of Billie Eilish and Lorde.
The lead song, Sour Milk, in particular, earned her support from Radio 1, BBC Introducing and Spotify,
But those songs are very different to the music she makes now.
At Latitude, she bounds onstage with a guitar slung low around her hips and thrashes out a succession of spittle-flecked pop songs such as Lovestruck and Girl Of Your Dreams, before covering Guns N' Roses' Paradise City.
"On my first two EPs, I was going through so many identity crises," she says.
"I was trying to sound like other people – and obviously that doesn't work.
"Ultimately, I've discovered I'm a rock star stuck in a pop star's body.
"I'll go into the studio and be like, 'Let's write some rock and roll.' And then, I write a pop melody. It's my biggest curse."
A cynic would point out record labels, inspired by the success of Olivia Rodrigo, are encouraging a lot of pop singers to pick up a guitar and "go rock".
But Dylan has the music in her DNA. In fact, Lovestruck, a forthcoming single, was her attempt to write a song in the spirit of AC/DC's Highway To Hell.
"That's what I love about the way that I'm writing at the moment.
"I go in with a really heavy rock song as a reference and it will end up being a completely different song – but it'll still have a little flavour of it."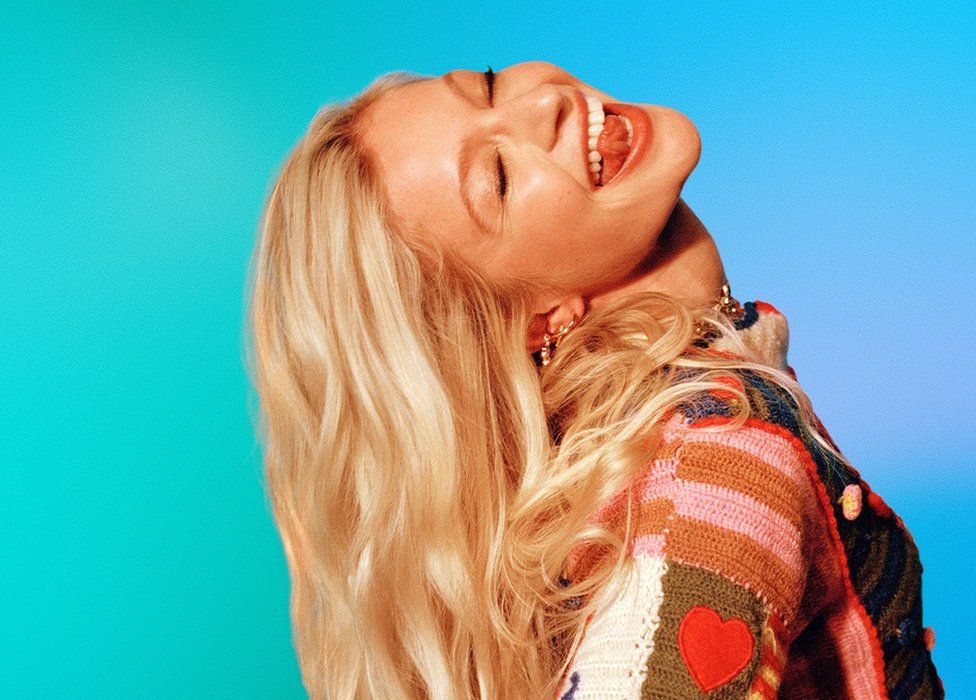 Bad boyfriends continue to be an inspiration, too. One of her biggest streaming hits is a barbed attack on an ex who thought rather too much of himself, with the withering title You're Not Harry Styles.
"To you, I'm an overly emotional, easily replaceable, overthinking dumb blonde," she vents.
"You think you can do better… but you're not quite Harry Styles."
"What's so funny about that song is I wrote it on the day we broke up," Dylan laughs.
"I knew my relationship was coming to an end and I was so angry and I needed my power back desperately.
"So we wrote the song, then I went home and we broke up.
"What I love about that song is the juxtaposition.
"It's complimenting him constantly – but at the same time, it's like, 'You can't do better than me.'
"That's the sort of feeling I want to capture in my next music."
Dylan's built a growing fanbase for those upcoming releases, with an exhausting schedule of non-stop touring.
So far this year, she's hit the road with Bastille, Tate McRae and Ed Sheeran, as well as her own headline tour.
She's been so busy, in fact, that she's made it home to Suffolk just twice in 2022.
After Latitude, Dylan plans to spend a single "day in the garden with my dad" before going back to work- and the toll of pursuing music full time has become increasingly apparent.
"It's very hard to maintain relationships when Propet Shoes the love of your life is your career," she says.
"I've had a lot of trouble with friends and things recently."
Luckily, Ed Sheeran – with whom she shares a manager – was on hand with some timely advice.
"He told me about the five-people rule," she says.
"You can count your best friends on one hand – and that's all you need.
"So it's all a learning curve at the moment.
"I'm learning how to entertain crowds, I'm learning how be myself on stage, learning how to run on zero sleep and learning how to look out for myself, also.
"But I'm really happy – I can't wait for people to hear my music."
And if ambition can manifest success, Dylan is going to be a massive star.
"I treated Wembley Stadium as a warm-up – I want to headline my own show there one day," she laughs, acknowledging the hubris.
"You've got to be your own biggest fan, right?"