How Ukraine helped the US rethink refugee policy
When Ukrainian refugees Olesia and Serhii landed in the US, two things surprised them: the warm reception they received, and the cavernous expanses of the country's largest shopping centre, Minnesota's Mall of America.
"That was an interesting experience! We liked what we saw," Olesia told the BBC through an interpreter. "But what I can really say is that there are many heartfelt people here, and that it's safe."
The couple fled the city of Dnipro almost exactly a year ago after Russia's invasion of Ukraine began on 24 February 2022. Shortly thereafter, they travelled to Italy, where the pair and their two young children took shelter in a dormitory alongside more than 100 people.
In December, however, they became part of the approximately 109,000 refugees who have found a new home in the US through Uniting For Ukraine, a government programme that allows Americans to sponsor Ukrainians to come to the US for up to two years. The programme, which has been considered a resounding success, has led to the Biden administration announcing similar initiatives for refugees from other countries.
Under Uniting for Ukraine, sponsors are supposed to help provide financial support for basic needs such as housing and health care, but participants and activists say the initiative has led to bonds being formed between refugees and their sponsors that often go far beyond their initial commitments.
"We regularly hear it is life changing, and a very powerful experience. It's a tremendously powerful gift of safety and security," said Anya McMurray, the president and chief operating officer of Welcome.Us, an online platform that connects sponsors and refugees.
"It is every bit as transformative for the welcomer as it is for those being welcomed," she added.
Ms McMurray's assessment was echoed by John Schrager, the Minnesota-based lawyer who sponsored Olesia and Serhii along with several friends.
"I got a new Ukrainian family out of it," Mr Schrager said. "And – luck of the draw – I happened to sponsor someone who's an amazing cook!"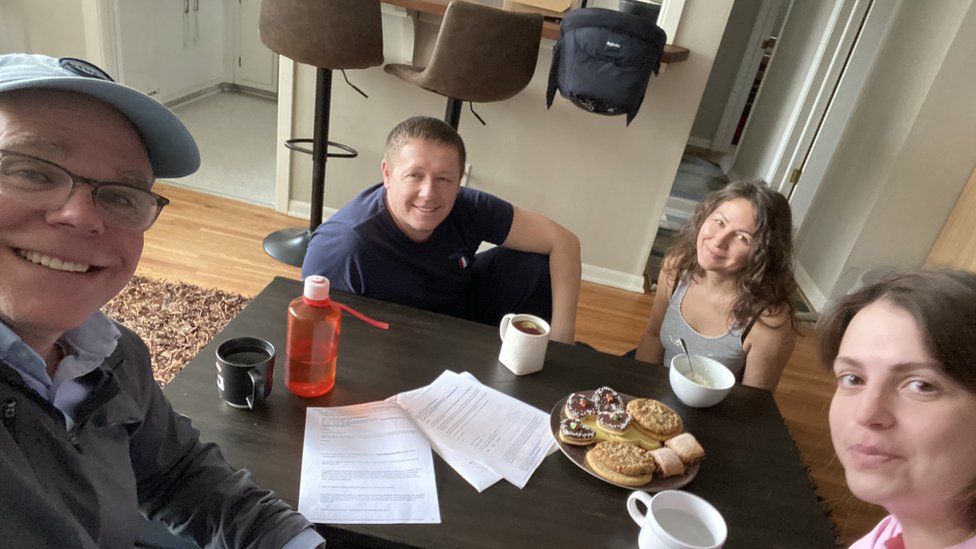 Another US sponsor, Alabama-based Kelly Wheeler, told the BBC that what began as a small family effort to help a Ukrainian woman and her young son soon ballooned into a sprawling group effort involving many other people.
Together, Ms Wheeler and other residents of the town of Madison were able to provide financial support, as well as other donations and even furniture, until the refugees were settled.
"There's been so much support from our community, our church and our neighbourhood," she said. "You don't do it alone….all it took was a little bit of advertising and getting the word out."
The woman Ms Wheeler supported, Viktoriia Kuznietsova, is originally from the occupied city of Melitopol in Ukraine's south-east. She was forced to abandon a law career after Russia invaded, and first fled to Israel before ultimately arriving in the US in June. Accompanying her was her young son, 7-year-old Artem.
In Alabama, she has found a job as a cashier at a local supermarket.
"I really like it, and it's a new experience," she added. "People are very friendly. They ask me where I'm from and things about me, and about my country."
While she's now safely thousands of miles away from Ukraine with her son, Ms Kuznietsova added that her thoughts constantly drift back to her country.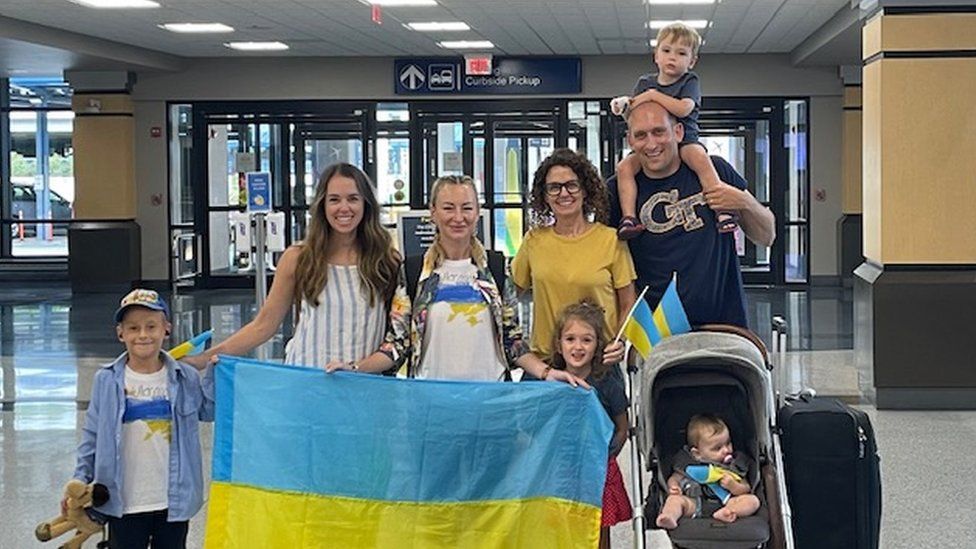 Over the winter, she teamed up with other Russian and Ukrainian-speakers in Alabama to raise money for packages to help the war effort in Ukraine, where her brother is now a soldier fighting on the frontlines.
"I think so much about my brother. He's in dangerous territory, in Donetsk," she said. "All day I worry about the rest of my family. They're in occupied territory."
The success of Uniting for Ukraine has led to similar initiatives for refugees from other countries.
The Biden administration recently announced that sponsors could help bring in 30,000 people a month from Nicaragua, Cuba, Haiti and Venezuela for a period of up to two years.
In January, the Biden administration created a new programme, Welcome Corps, which seeks to mobilise 10,000 Americans to help 5,000 refugees from around the globe come to the US.
Inspired by previous programmes for Ukrainians and Afghans, as well as a similar sponsorship programme in neighbouring Canada that has so far resettled 368,000 people, Welcome Corps allows groups of five or more Americans to raise a minimum of $2,375 in cash and in-kind contributions, which will then be used to provide for a refugee's initial needs until they're able to find a job.
In contrast to the previous programmes, Welcome Corps allows approved refugees to connect directly through sponsors, rather than through resettlement agencies.
"We're thrilled," Ms McMurray told the BBC. "We think it's exactly the right direction, because it taps into the will, desire and capacity of Americans to welcome."
Also unlike previous US programmes, including Uniting For Ukraine, Welcome Corps provides a pathway to citizenship after five years.
Jocelyn Wyatt, the CEO of Alight – a humanitarian organisation that has previously helped pair refugees with Americans – said the new programme benefited sponsors and refugees.
"It opens up so many opportunities for everyday Americans to be really generous, be welcoming and be able to provide support and a soft-landing for people who are coming into this country," she said.
Sponsoring a refugee, however, is not without its challenges. Besides the additional financial burden on the sponsors, there are cultural and linguistic differences that can be overcome.
"It's a heavy lift, but it's worth it," Mr Schrager said. "It's great that I've had the opportunity. But it's not about me, it's about them, and how great it is when people come together."