Jack Teixeira's charges in full: 'Top secret' access, leak searches and the Espionage Act
Criminal charges filed against Jack Teixeira, the man alleged to have leaked sensitive US defence documents, shed new light on his access to classified documents, his career in the military, and the timeline of events leading up to his arrest on 13 April.
Mr Teixeira, a 21-year-old member of the Massachusetts Air National Guard, now faces one count of "unauthorised retention and transmission of national defense information", as well as one count of "unauthorised removal and retention of classified documents or material".
Together, the charges carry a maximum sentence of 15 years' imprisonment.
The documents, which were reportedly shared to an online gaming chatroom, included detailed information about the war in Ukraine, as well as US intelligence regarding other allies and adversaries across the globe.
While US officials have so far not provided details about the investigation and the scope of the leak, court documents filed on Friday offer a glimpse into Mr Teixeira's life and how the leak is alleged to have taken place.
This is what the charging document says.
Documents first posted in December
The criminal complaint against Mr Teixeira includes an affidavit written by an FBI special agent who specialises in counter-intelligence and espionage matters.
In the affidavit, FBI Special Agent Patrick Lueckenhoff says an individual using a username later linked to Mr Teixeira through payment records began posting what appeared to be classified information in December 2022.
The posts were made on a Discord chat server devoted to the discussion of geopolitical affairs, the affidavit says.
In January, the affidavit says photographs of documents which "contained what appeared to be classification markings on official US government documents" were posted.
An unnamed social media user, identified only as User 1, told the FBI that one of the documents posted in the initial tranche "described the status of the Russia-Ukraine" conflict, including troop movements on a particular day.
The affidavit describes the document as "based on sensitive US intelligence, gathered through classified sources and methods".
Its "top secret" classification meant that its disclosure could cause "exceptionally grave damage" to national security, the affidavit notes.
User 1 also told the FBI that Mr Teixeira said he had "become concerned that he may be discovered making the transcriptions of text in the workplace, so he began taking the documents to his residence and photographing them".
Photographs of some of the leaked documents reviewed by BBC News appear to have been taken at a residential address. In several, a kitchen countertop and floor tiles are clearly visible, while in others various personal items can be seen on a desk.
Mr Teixeira had 'top secret' clearance
The court documents show that Mr Teixeira enlisted in the Air National Guard in September 2019. He is currently an E-3/airman first class – a relatively low rank – and as of February was listed as a "Cyber Defense Operations Journeyman".
In 2021, he was granted a "top secret" security clearance. The same year, he was also given "sensitive compartmented access" to other classified US government programmes.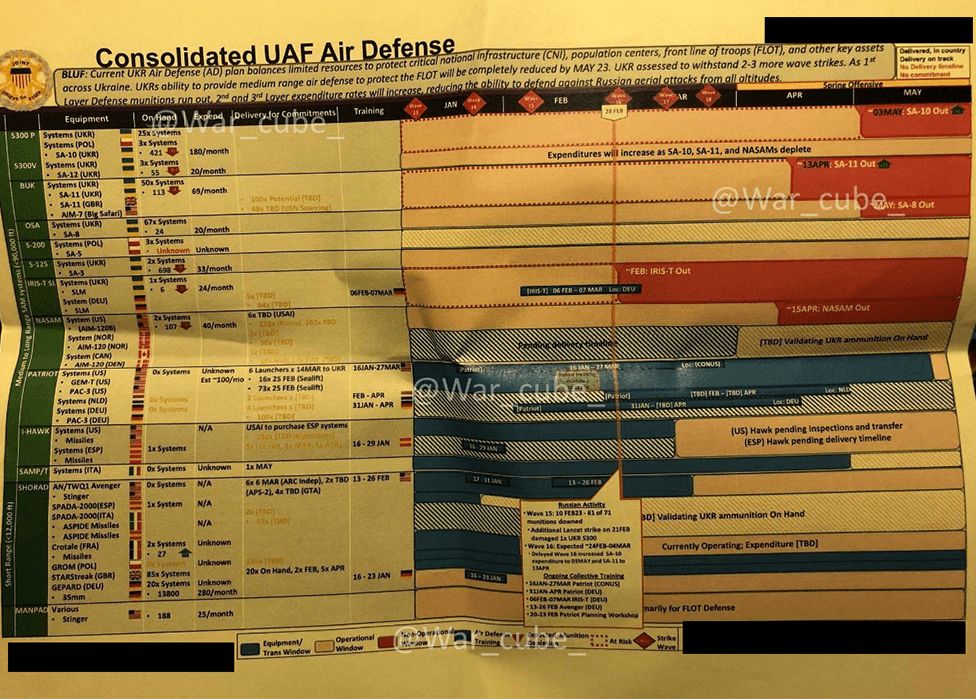 To get this clearance, he would have been required to sign a lifetime, binding non-disclosure agreement "in which he would have had to acknowledge that unauthorised disclosure of protected information could result in criminal charges".
Mark Zaid, a national security lawyer who frequently works on cases involving classified information, told BBC News it would not be unusual for someone as young as Mr Teixeira to have access to classified documents such as the ones that were leaked online.
"There are a lot of people that age who have access to classified information, particularly in the National Guard," Mr Zaid said. "The issue is more of why did he have access to documents that he likely had no need to know."
As an airman assigned to cyber transport systems, Mr Teixeira's work meant that he was responsible for helping operate the Air Force's global communications network.
Mr Zaid said that this role would have given Mr Teixeira access to the Joint Worldwide Intelligence Communications System, or JWICS, which he described as a "library of information" regarding US intelligence.
A search for the word 'leak'
The criminal complaint also alleges Mr Teixeira used his government computer to search for intelligence reporting for the word "leak" on 6 April – the same day as the first public reporting about the leak.
"Accordingly, there is reason to believe that Teixeira was searching for classified reporting regarding the US intelligence community's assessment of the identity of the individual who transmitted classified national defense information," the document adds.
Charged under the Espionage Act
The charges also show that Mr Teixeira's criminal charge stems, in part, from the Espionage Act.
Specifically, his first charge is under a statute that calls for a prison term of up to 10 years – as well as fines – for anyone who "copies, takes, makes or obtains or attempts to copy, take, make or obtain" a variety of government documents.
This information, the statute notes, "could be used to the injury of the United States of to the advantage of any foreign nation".