Key moments from E Jean Carroll's civil rape trial against Donald Trump
A former columnist's civil rape trial against Donald Trump has featured tense exchanges with lawyers and controversial remarks about women's bodies.
E Jean Carroll is suing the ex-US president, alleging he raped her in a Manhattan department store nearly 30 years ago.
Mr Trump has consistently denied the accusation.
Here are the key moments from the closely watched two-week trial in New York, which Mr Trump himself has so far not attended.
One of the most pivotal moments of the trial came during Ms Carroll's opening testimony, when she described in graphic detail what she alleges happened in the Manhattan Bergdorf Goodman store in 1996 and the trauma she says she has endured as a result.
"I'm here because Donald Trump raped me and when I wrote about it, he lied and said it didn't happen," she said.
She then proceeded to walk the court through the day of the alleged assault, explaining how she bumped into Mr Trump and exchanged flirtatious banter with him before things quickly turned violent. She said Mr Trump asked her to come with him into a dressing room, where he closed the door, held her against the wall and raped her.
"As I'm sitting here today I can still feel it," she told the court.
She added that Mr Trump's denial of the assault had shattered her reputation, costing her her job and romantic relationships. "I'm here to try to get my life back," she said.
During several hours of cross-examination over two days, Ms Carroll faced challenging questions about the assault from Mr Trump's lawyer, Joe Tacopina, who attempted to cast doubt on her details of the alleged rape.
During a particularly tense exchange, Mr Tacopina repeatedly asked Ms Carroll why she did not yell when the alleged assault occurred.
"I'm not a screamer", she told Mr Tacopina, adding that some women do not come forward about sexual assaults because they are asked why they did not scream.
"I'm telling you he raped me whether I screamed or not," she told Mr Tacopina at one point.
The veteran Trump lawyer also pressed Ms Carroll on why she did not report the assault at first to the police.
The former Elle magazine columnist replied that she was a member of the "silent generation", saying women her age were taught to keep quiet.
Mr Tacopina also questioned Ms Carroll on why she could not recall the specific date of the assault. The writer later conceded that certain parts of her story were "difficult to conceive of".
During the trial, Mr Trump did not mount his own defence at all, calling no witnesses and appearing to defend himself only in a video of his deposition, excerpts of which Ms Carroll's lawyer played for the court.
Facing questions from Ms Carroll's lawyer Roberta Kaplan, Mr Trump continued to deny the allegations he raped Ms Carroll, calling them a "big fat hoax" and repeating previous remarks that Ms Carroll was "not his type in any way".
But at one point, he appeared to confuse Ms Carroll for his ex-wife Marla Maples, a mistake Ms Carroll's lawyers claimed undermined his argument that the writer was not his type.
In the video, Mr Trump is shown an old black-and-white photo of him speaking to a man and two women at an event. "It's Marla," he said, before his own lawyer told him the woman he referenced in the photo was indeed Ms Carroll.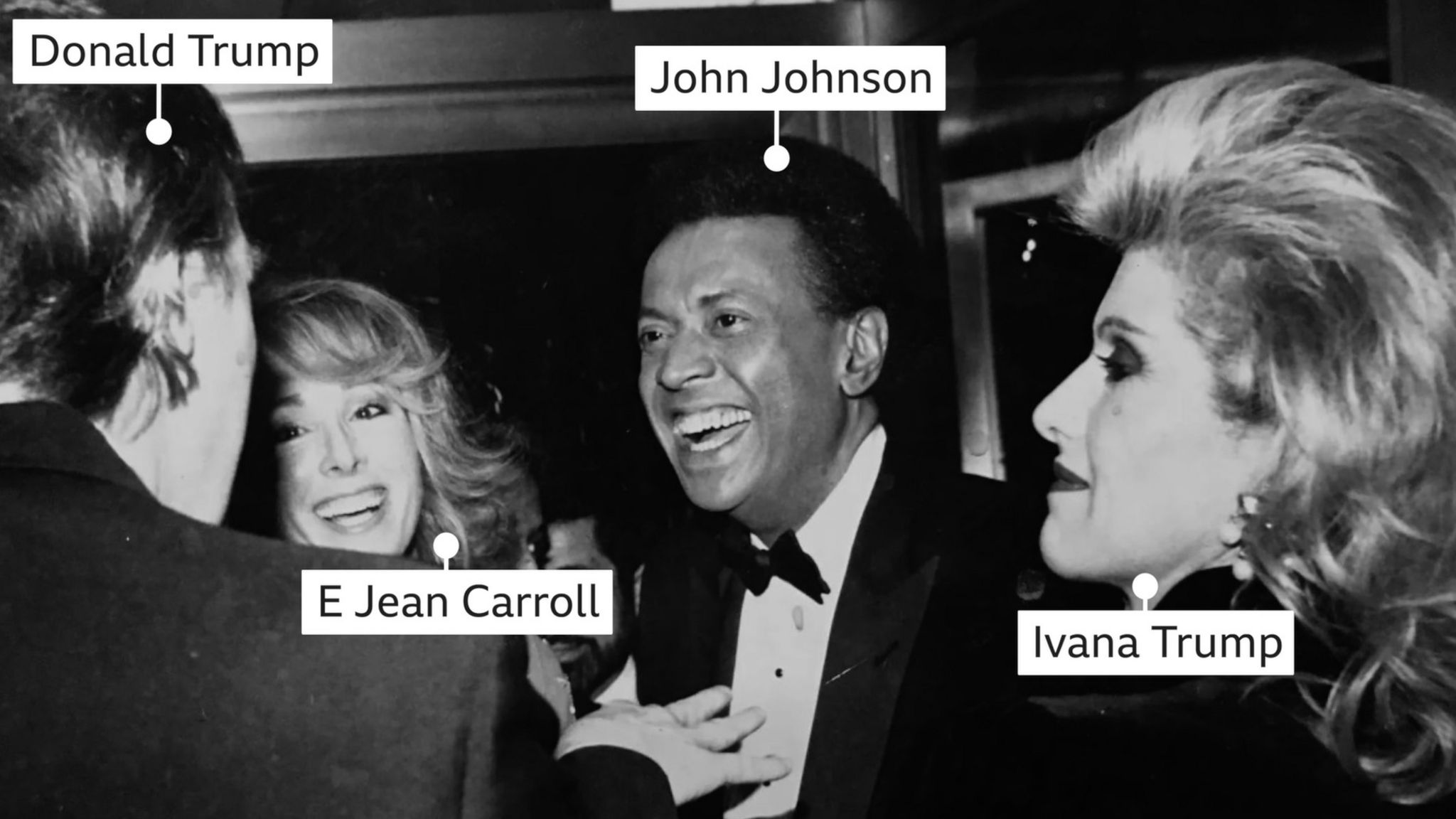 The Access Hollywood tape
In another excerpt from Mr Trump's video deposition played for the court, Ms Kaplan replayed for Mr Trump a controversial Access Hollywood recording from 2005 featuring a conversation between him and the show's co-host about women.
"When you're a star, they let you do it. You can do anything," Mr Trump said in the recording, which was leaked to the public just one month before the 2016 presidential election. "Grab them by the [expletive]. You can do anything," he added.
Asked about the clip by Ms Kaplan, the former president seemed to double down on the remarks, claiming: "Historically, that's true with stars".
When Ms Kaplan pressed him on his comments about grabbing women "by the [expletive]", Mr Trump said: "Well, I guess if you look over the last million years, that's been largely true – not always true, but largely true, unfortunately or fortunately."
In other tense moments during the questioning, Mr Trump appeared to grow agitated with Ms Kaplan, attacking her appearance, claiming that, like Ms Carroll, "you wouldn't be a choice of mine either, to be honest".
During her second day on the stand under questioning from her own lawyers, Ms Carroll described the backlash she encountered after coming forward with her rape allegation.
After Mr Trump released a statement in social media denying the accusation and calling Ms Carroll's first lawsuit against him a "con job", Ms Carroll said she faced a "wave of slime".
She said many extrapolated on Mr Trump's remarks that she was "not his type", telling her she was "too ugly to go on living".
Mr Trump's social media comments also sparked a rebuke from the judge in the case, Lewis Kaplan. The former president has called the suit a "made-up scam" and claimed Ms Carroll's lawyer was a political operative, remarks Mr Kaplan called "entirely inappropriate".