Saraya: WWE's Paige shocks fans in debut for rival firm AEW
The British-born wrestler walked out to a standing ovation at Arthur Ashe Stadium in New York on Wednesday.
All Elite Wrestling (AEW), which staged the Dynamite: Grand Slam event, officially welcomed her after the surprise appearance.
Saraya announced she was leaving WWE in June after a long absence from the ring due to a neck injury.
Her first appearance for AEW came after a four-way Women's World Championship match between Toni Storm, Dr. Britt Baker, DMD, Athena and Serena Deeb.
Saraya, wearing a hot pink, studded leather jacket, emerged at the top of the walk-on ramp as a chorus of cheers rang out.
After making her way into the ring, she pointed to the mat and yelled "my house" while glaring at the other wrestlers.
It's not clear if Saraya, who last wrestled for the WWE in 2018, will perform in any AEW matches.
But a tweet from company boss Tony Khan confirmed she had been added to its roster of stars.
The BBC is not responsible for the content of external sites.View original tweet on Twitter
The reveal seems to have blindsided most fans, with one calling it a "legit shock", and many praising AEW for the "huge signing".
Saraya, who was born in Norwich, is one of professional wrestling's best-known female talent.
The 30-year-old held a number of major WWE titles during her career, and received awards recognising her contribution to its women's division.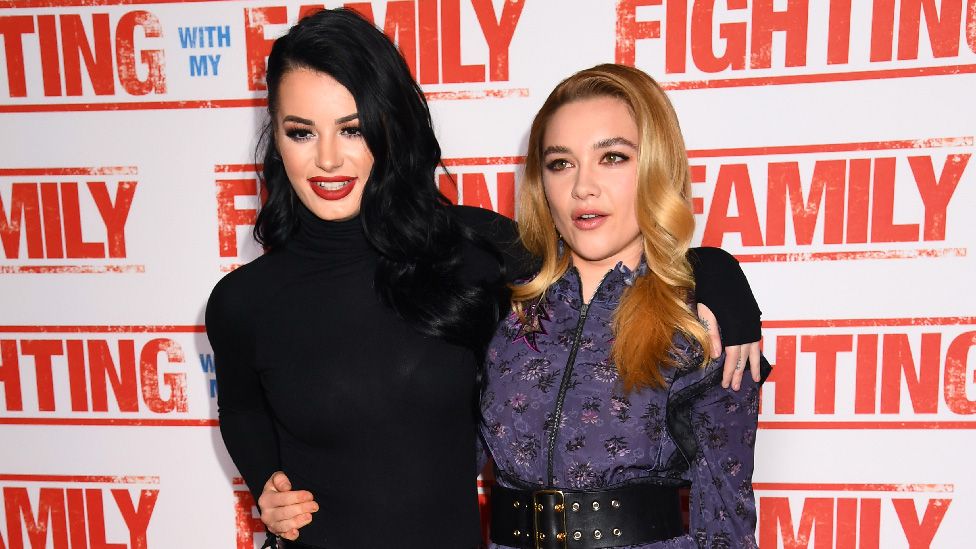 Saraya was played by Florence Pugh in Fighting With my Family, a 2019 film based on Saraya's early career and journey into the WWE.
She is due to return to the UK when she makes an appearance in Norwich on 15 October.