US weather: Storms cause power outages in California and north-east
Thousands were without power in the US on Wednesday as powerful storms brought rain, snow, flooding and high winds to both coasts of the US.
California saw overflowing rivers and mudslides and is bracing for more, while New York and New England dig out from under up to three feet of snow.
By Wednesday evening, power was restored to most of the north-east.
But over over 100,000 remain without power in California, as officials warn of more foul weather in the forecast.
The storm that swept along the north-east brought mounds of snow, downed power lines and toppled trees – one of which nearly flattened a parked car in the Bronx – and had winds recorded over 40mph (64km/h). Hundreds of schools and businesses in the region were closed.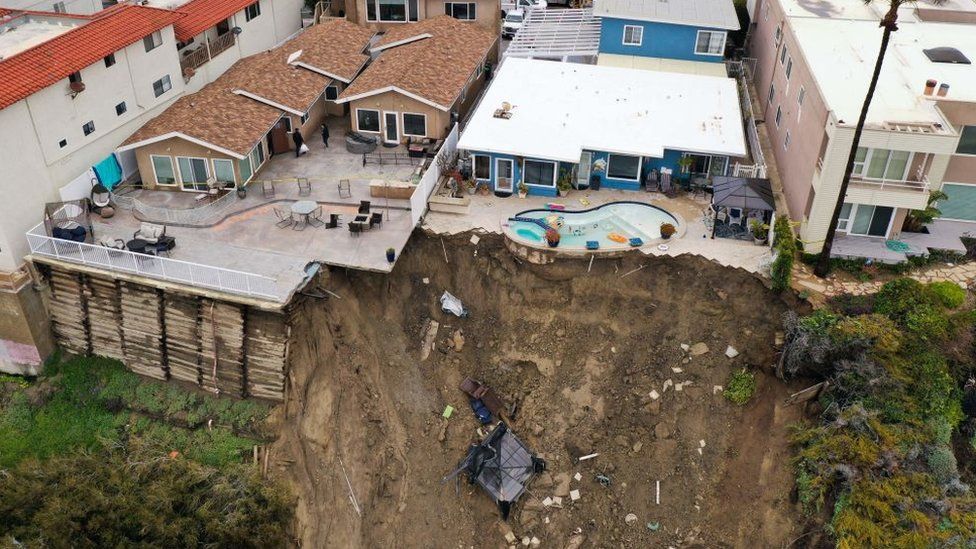 New York state and multiple counties in New Jersey issued states of emergency overnight that lasted into Wednesday morning.
In Derry, New Hampshire, a child was struck and pinned down beneath a snow-covered tree knocked over by fierce winds, the Derry Fire Department said in a Facebook post. Through a mix of chainsaws and shovels, "16 firefighters and three police officers worked for 19 minutes to free the child from underneath the tree", the department said. The child was taken to hospital with minor injuries.
On the west coast, where a series of storms have hit California since the start of the year, saturated soils have created hazardous conditions for residents.
California Governor Gavin Newsom ordered a state of emergency in 43 of California's 58 counties.
A mudslide in Placer County caused severe damage to a home sunk nearly to its roof in mud, according to the local fire department.
California is experiencing its eleventh atmospheric river since December. The weather phenomenon happens when water evaporates into the air and is carried along by the wind, forming long currents that flow in the sky like rivers flow on land, causing heavy downpours.
Four people have died in the most-recent storm, Mr Newsom said while touring an area in the state's central coast was that was damaged by a burst levee.
"It's been fire to ice and no warm bath in between," Mr Newsom, referring to the state wildfire season just a few months ago.
On Tuesday evening rivers overflowed and some roads became impassable throughout the state. Workers laboured to repair a recently breached levee in Monterey County, where over 10,000 people are under evacuation orders.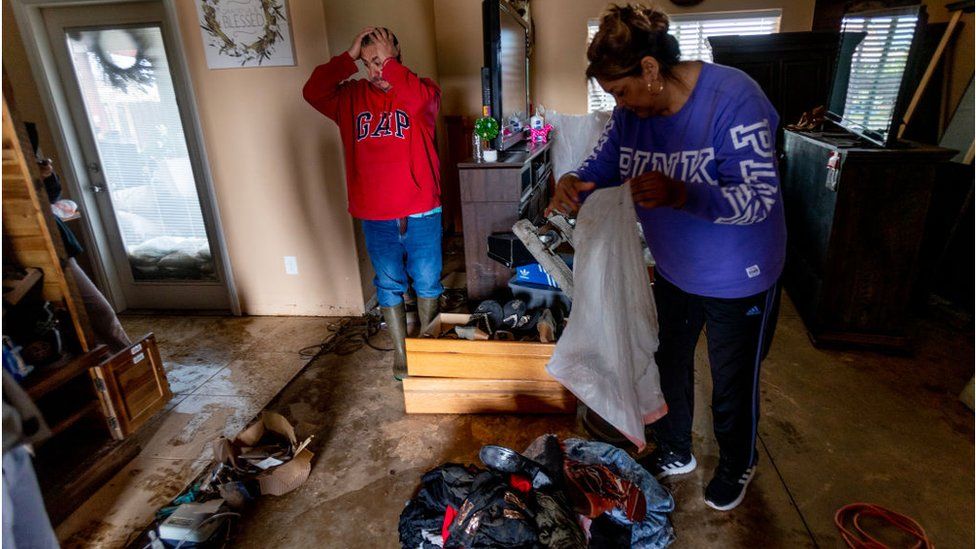 High winds also plagued the state. Nearly 15 million people were under a high-wind warning on Tuesday as hurricane-force winds in multiple counties exceeded 90mph (144kph), CNN reported.
Californians on Wednesday night can expect a slight respite, but it will not last long, the National Weather Service warned.
"After this latest high-impact atmospheric river sweeps through California by Wednesday, a few days of relief from any heavy precipitation is expected," the NWS Prediction Center tweeted.
"However, the extended range outlook from the Climate Prediction Center forecasts another atmospheric river arriving next week."