What is the Ukraine grain deal and what good has it done?
Russia is asking Western nations to soften their sanctions in exchange for renewing a deal to let Ukraine export its grain.
The deal has enabled Ukraine to transport millions of tonnes of food through the Black Sea despite the ongoing conflict.
Why was the grain deal needed?
Ukraine is a major global exporter of sunflower, maize, wheat and barley.
When Russia invaded in February 2022, its naval vessels blockaded Ukraine's ports, trapping some 20 million tonnes of grain.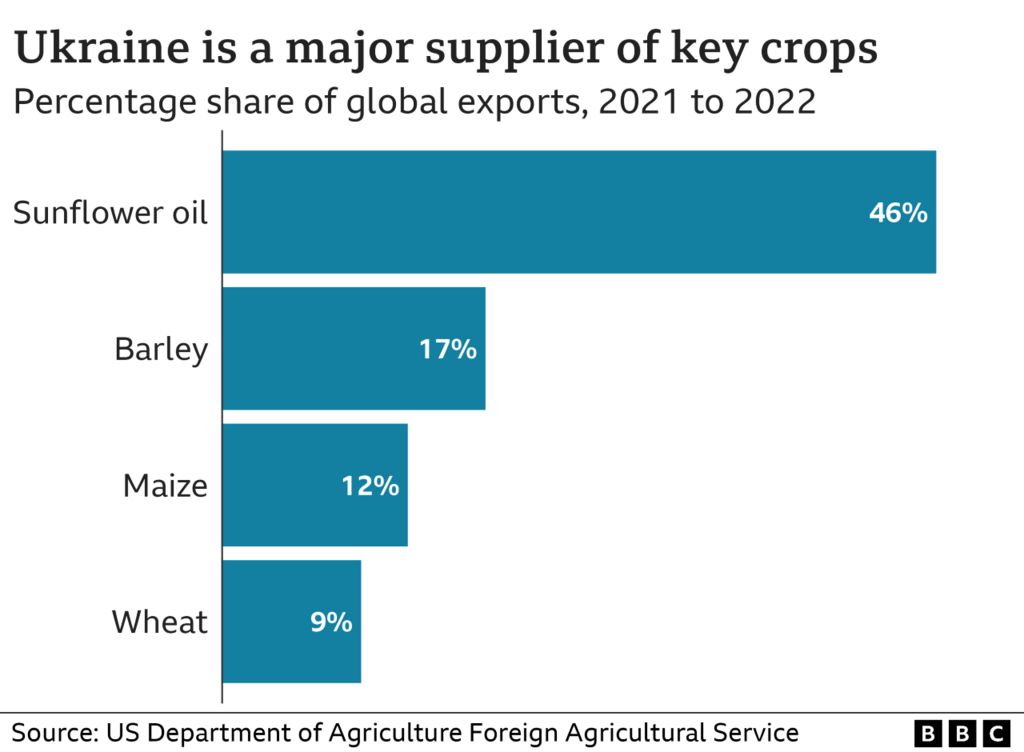 That forced global food prices to all-time highs.
Food supplies were particularly threatened in Middle Eastern and African countries which rely heavily on Ukrainian grain, and the UN says prices of staple foods rose across these regions by an average of 30%.
UN secretary general António Guterres said 44 million people in 38 countries were facing "emergency levels of hunger".
"UN officials were worried about the Horn of Africa, where drought was already pushing countries towards famine conditions, and a lack of grain was making things worse," says Richard Gowan from The International Crisis Group, which works to prevent conflict.
Will the grain deal be extended?
The deal is meant to be extended for 120 days at a time, and the next renewal is due on 18 March.
However, Russia is only offering another 60 days.
It wants Russian producers to be able to export more food and fertiliser to the rest of the world, but says Western sanctions mean they can't.
There are no specific Western sanctions on Russia's agricultural exports, but Moscow argues that other restrictions in place mean international banks, insurers and shippers are reluctant to do business with its exporters.
Russia is the biggest exporter of wheat in the world, with a 19% share of the global market. Its wheat exports have increased over the past year, according to agricultural consultancy Sovecon.
The country pulled out of the Black Sea grain deal in November last year, accusing Ukraine of launching a "massive" drone attack on its fleet in Crimea from vessels in the safe shipping corridor.
However, it rejoined a few days later.
How does the grain corridor work?
On 22 July last year, Russia and Ukraine signed the Black Sea Grain Initiative, with the support of the UN and Turkey.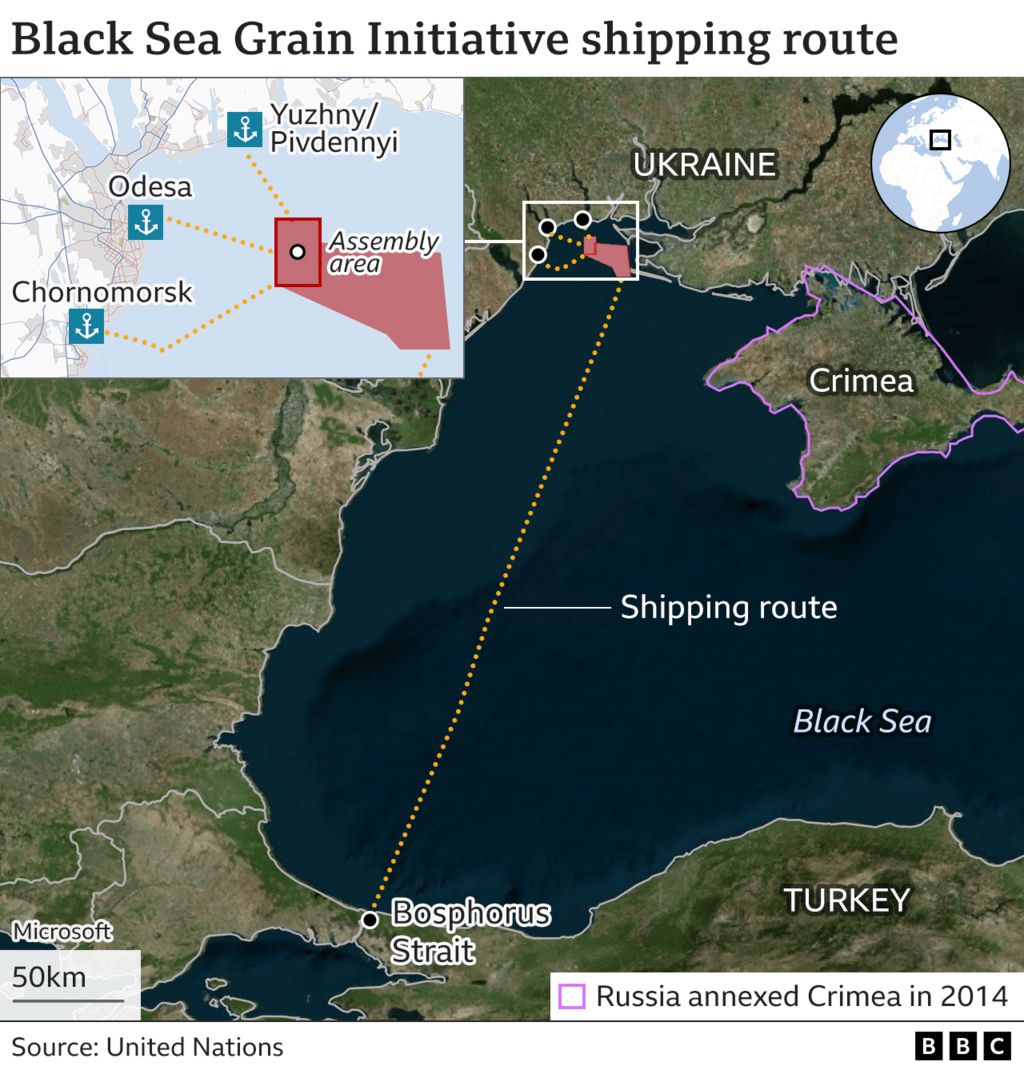 It let cargo ships pass safely through the Black Sea to and from the ports of Odesa, Chornomorsk and Yuzhny/Pivdennyi.
The first grain shipments started in early August, using a corridor 310 nautical miles long and three nautical miles wide.
According to the UN's Joint Coordination Centre (JCC), which oversees the scheme, over 800 ships have left Ukraine's ports in the past eight months, carrying more than 23 million tonnes of grain and other foodstuffs, as well as fertiliser.
These extra supplies were a major factor in lowering world food prices.
Prices started falling in spring 2022, as markets anticipated a grain deal being signed, and are now lower than they were before Russia's invasion.
How much grain is being exported?
Ukraine is exporting 30% less food that it did before the Russian invasion, according to its agriculture ministry.
This is partly because farmers are producing less, due to the fighting across large parts of the country.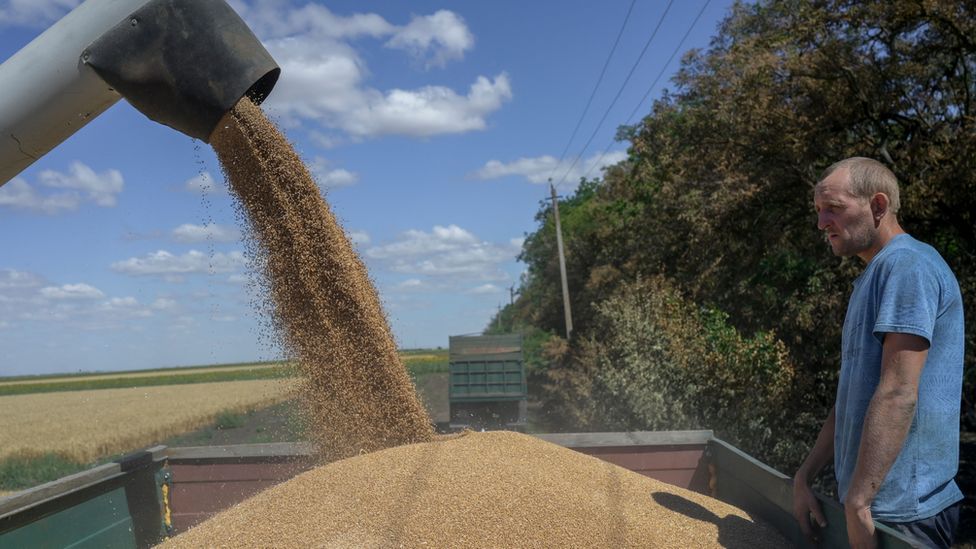 However, Ukraine's government says Russia has been delaying cargo ships heading to ports to pick up produce.
Under the deal, Russia has the right to inspect ships to make sure they aren't bringing cargo into Ukraine, such as weapons.
"Ukraine has accused it of being overly picky with the inspections," says Bridget Diakun, from the shipping journal Lloyds List.
"There is usually a queue of about 100 ships in the entrance to the Black Sea."
Where are Ukraine's exports going?
Only about a quarter of Ukraine's food exports have been going to the world's poorest countries, according to UN figures:
47% has gone to "high-income countries" including Spain, Italy and the Netherlands
26% has gone to "upper-middle income countries" such as Turkey and China
27% has gone to "low and lower-middle income countries" like Egypt, Kenya and Sudan
Russian president Vladimir Putin has criticised Ukraine for not exporting more of its foodstuffs to developing countries.
However, the UN says the exports have benefited needy people around the world because they calmed international food markets, bringing food prices under control.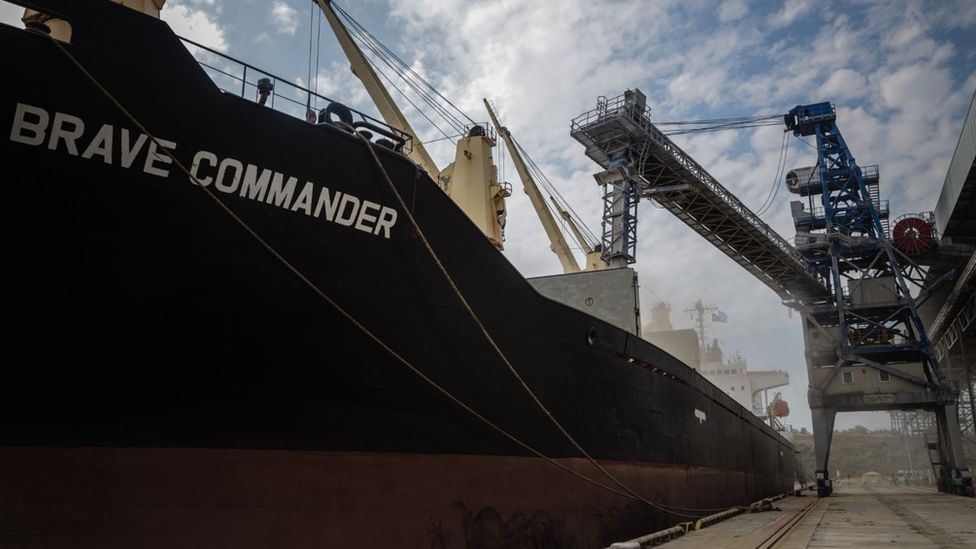 The United Nations World Food Programme buys about half of all the grain Ukraine produces to distribute as humanitarian aid around the world.
Between August 2022 and the end of the year, it sent 13 ships from Ukraine carrying a total of over 380,000 tonnes of wheat to Ethiopia, Yemen, Djibouti, Somalia and Afghanistan.