Will Donald Trump face a gag order, and what happens next in his case?
Donald Trump has become the first former American president ever to be criminally charged, pleading not guilty to 34 counts of falsifying business records. So what comes next for him and his defence team?
Although these charges are usually treated as lesser misdemeanours, Mr Trump is accused of committing felonies – more serious offences that carry a maximum penalty of prison time.
The charges relate to Mr Trump's involvement in hush money payments to former porn star Stormy Daniels ahead of the 2016 presidential election.
If the case gets to trial, it will be watched worldwide.
But the legal process that lies ahead could last months – and will certainly see Mr Trump's lawyers fighting to get the case dropped.
Legal experts have speculated that the judge may impose a so-called "gag order" on Mr Trump – barring him and his legal team from publicly discussing this case.
On social media, the former president has claimed Judge Juan Merchan "HATES" him and treated his company "VICIOUSLY" in an earlier tax fraud case. He has also bashed Manhattan District Attorney Alvin Bragg, the prosecutor, as an "animal" and "degenerate psychopath" whose investigation could bring "death and destruction".
At his Tuesday arraignment, no gag order was requested and Judge Merchan said he would not impose one "at this time even if it were requested".
But in pointed remarks, he told the former president: "Please refrain from making comments or engaging in conduct that has the potential to incite violence, create civil unrest, or jeopardise the safety or well-being of any individuals."
About five hours later, Mr Trump made comments criticising the judge and prosecutor by name. In a speech among supporters at his Florida home, he slammed Judge Merchan as a "Trump-hating judge with a Trump-hating wife and family" and Mr Bragg as a "failed district attorney" who should himself be prosecuted.
If Judge Merchan does impose a gag order in the future and the Trump team violates it, the former president will be held in contempt of court, which could come with a fine of $1,000 (£800), up to 30 days of jail time, or both.
Prosecutors hand over evidence
The Manhattan District Attorney's office has been investigating the Trump hush money payments for five years.
Mr Bragg alleges Mr Trump falsified the true nature of the payments because they were made in support of a crime – attempting to influence the 2016 presidential election, which is a violation of election law.
With Mr Trump's arraignment complete, prosecutors must now turn over evidence they have gathered during their probe to Mr Trump's legal team, a standard process known as discovery.
This is generally completed within 35 days of arraignment, but the Bragg team has been given 65 days – or until 8 June – to produce the "vast majority" of its materials.
Evidence will include law enforcement interviews with, and witness testimony from, key figures like Ms Daniels and Mr Trump's former lawyer Michael Cohen, as well as prosecutors' internal communications.
It will also include minutes from, and exhibits shown to, the grand jury convened earlier this year by Mr Bragg to take a closer look at the allegations.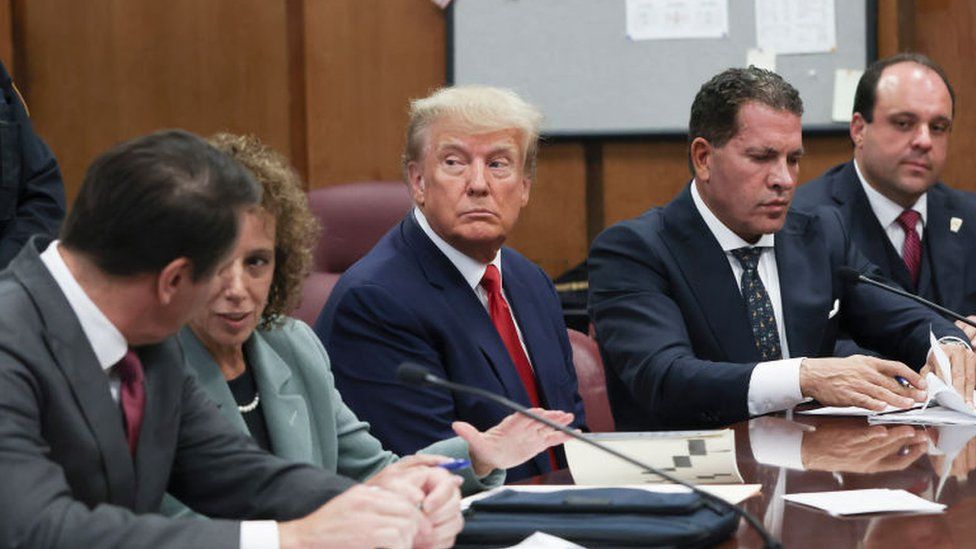 Trump's lawyers will try to get case dismissed
Lawyers for Mr Trump have vowed to challenge the charges against him within days, arguing that the case is "ripe for motions".
Motions are requests for the court to make a decision on a matter relating to a case before a trial begins. If a party makes a motion to dismiss, it is asking the court to dismiss all or part of a case.
New York typically allows 45 days after arraignment to make motions, but Judge Merchan has allowed the Trump team just over four months – or until 8 August – for the defence to complete all of their motions, and set prosecutors a deadline of 19 September to prepare their response.
Trump attorney Joe Tacopina vowed on Sunday on CNN to "evaluate all our legal options and pursue every one most vigorously".
"The team will look at every, every potential issue that we will be able to challenge, and we will challenge," he said. "And, of course, I very much anticipate a motion to dismiss coming because there's no law that fits this."
In addition to a motion to dismiss, the Trump team has floated the possibility of a motion to dismiss the judge, as well as a motion to transfer the trial venue – from Manhattan to nearby Staten Island.
Mr Trump wrote on social media that Manhattan "with some areas that voted 1% Republican" is a "very unfair" place for him to face a trial. But motions to transfer venue are rarely granted.
Trump's next day in court
After each side's motions have played out, we will know for certain if the People of New York v Donald Trump will go to trial.
Defendants in New York have the "right to a speedy trial" within six months or so of an indictment, and prosecutors told the court on Tuesday they would like to go to trial in January of 2024.
Mr Trump's lawyers said a trial date in the spring would be "more realistic".
The court will deliver its ruling on motions on 4 December, and this is when Mr Trump is expected to be back in court.
That means, if the case does eventually go to trial, it will probably start after Americans begin voting in primary elections to select their nominees for president in 2024.
In the meantime, Mr Trump could face criminal charges in at least two other cases, including a sprawling special counsel probe into his efforts to overturn the 2020 election, and his handling of classified information after leaving office.
But no laws exist to prevent an indicted American from running for president, and the Republican is ploughing ahead with his third consecutive campaign for the White House.